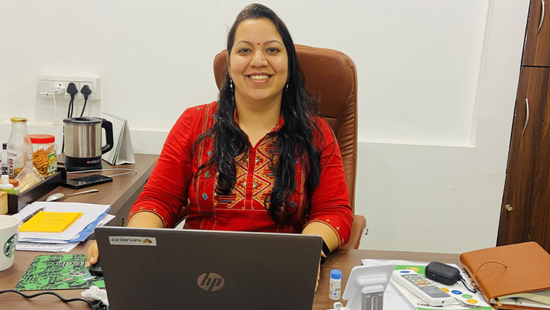 Naturefit: One Click For Everything Natural
The COVID-19 pandemic has led to an increase in awareness about the importance of preventive health and alternative medicine. People are now more concerned about their health than ever before.
This awareness and need for preventive health and alternative medicine led to the genesis of a unique health ecosystem in the form of a mobile app called Naturefit.
NatureFit is a app-based digital platform that brings people complementary and alternative therapies all in one place, along with all-natural products, health forums, trackers and much more, all under one roof.
NatureFit | One Place For Everything Natural
Founded by Mrs Avneet Bhatia, alumni IIT Bombay, in Jan 2021 and the app launched in Jan 2022, NatureFit is the first-ever DIGITAL AYUSH platform that offers people the best health solutions with easy accessibility.
The platform connects people with AYUSH practitioners pan India and is a marketplace full of natural products.
"The importance of preventive health and lifestyle management is well known. We believe in empowering our users with the most accurate, comprehensive, and curated information and care, enabling them to make better healthcare decisions. NatureFit believes in holistic health treatment and imbibing that into your day-to-day," says Mrs Avneet Bhatia in an exclusive conversation with The StartupLab.
As per the founder, Naturefit is working with a collective vision of its team and mission that proposes: Let Nature Heal You.
Get Holistic Health Treatment
Naturefit is on a mission to make quality complementary and alternative therapies accessible to all.
The health and wellness platform has 10,000+ branded products already listed on its platform and 5000+ well-renowned AYUSH practitioners/doctors on board, who promise users a better and more secure healing experience with options for post-consultation support.
Built keeping in mind all patient-to-doctor services, Naturefit has three major verticals for users, offering services like doctor consultation, lab tests, health tools, medicines and products.
1. Marketplace For Everything Natural: The platform lets users shop for natural healthcare products. You can buy well-renowned branded products that are Pan India from Naturefit Shop.
2. Locate AYUSH doctors and practitioners Digitally: The platform lets users connect with the nearest best AYUSH doctors and practitioners for consultation, treatment and more.
The entire doctor engagement and prescription tracking can be done on the app.
3. Connect with Like-Minded People: The platform has a community of health-conscious people called Fitbook.
Through this community, the purpose is to build a healthy network of people across the country, where they can take up health challenges, socialise and build a fit community.
For AYUSH Doctors, Naturefit has a wide range of services, right from getting new patients to managing their OPD/IPD and getting branding, visibility, logistics services, ordering medicines & more. All these services can be accessed via the doctor's mobile app with one click.
NatureFit | Taking Natural Healing Global
Since its inception, Naturefit has made 5000+ online consultations and completed 3000+ orders. Its mobile app has 25,000+ downloads.
Extending the magic of Natural Healing, the startup plans to make its services accessible globally. These services will be offered under Naturefit Global.
Concluding the conversation, Mrs Avneet Bhatia says,
"We have been passed on the traditional methods of the Indian system of medicine and living where nature has been a primary source of healing. Being a true beneficiary of Nature Cure and an avid follower of Yoga and Natural living, I want to give back to society in the form of an earnest effort called NatureFit."
For more stories of startups, click Startup Stories. Follow us and connect with us on Instagram, Facebook, Twitter, and LinkedIn.
Note: If you are a budding entrepreneur and require assistance in new company registration or other startup related legal services, contact us.