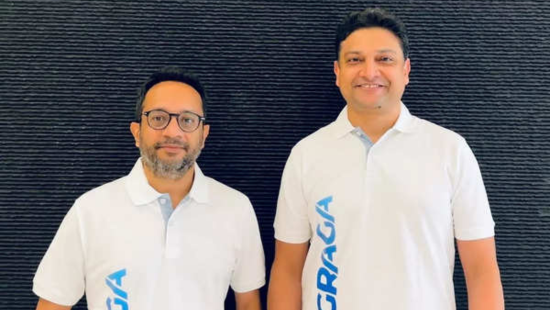 Logistics Platform Agraga Raises Rs 70 Crore In Funding
Agraga, a digital logistics startup, has raised Rs 70 crore in a Series A funding round led by IvyCap Ventures, with participation from Alteria.
As per the startup, the raised funds will be used to expand its footprint, enhance tech capabilities, and optimize supply chain partnerships.
It will also enable the startup to improve its integrations with asset partners like ocean and air carriers, transporters, warehouses, and customs departments.
Agraga | Unified Digital Logistics Platform
Founded by Anoop Raghavan and Venkatesh Narayanaswamy in 2021, Agraga is a unified digital logistics platform providing a seamless digital experience throughout the shipment lifecycle, from booking to tracking to execution.
The platform integrates asset holders to simplify cross-border logistics and currently serves over 200 customers from the enterprise segment and MSMEs.
Speaking on the development, Venkatesh Narayanaswamy, Co-founder and CEO of Agraga, said,
"As we continue to expand our national and global presence and maintain our low-touch model, Agraga has the ability to provide scalable solutions to MSMEs. Ultimately, our mission is to deliver a world-class experience to our customers and partners worldwide while creating long-term value for our stakeholders." 
Agraga weaves together an ecosystem of technology, people, partners, and infrastructure to build flexible and formidable supply chains for its customers. The digital logistics startup aims to create a digital ecosystem, flexible to meet customer requirements by integrating partners, shaving-off cost inefficiencies and curating products that go beyond just moving cargo.
Agraga claims to have more than 500 digitally connected partners, providing them with avant-garde solutions in more than 30 countries worldwide. As per the startup, the freshly raised funds will enable it to expand operations across India from its current presence in three cities to over 15 cities by March 2024.
Last week, Ripplr, a Bangalore-based distribution and logistics platform operated by Intelligent Retail Pvt Ltd, raised $40 million in a Series B round led by Fireside Ventures. Also, Zyngo EV Mobility Pvt. Ltd, which operates EV logistics firm Zyngo, raised $5 Mn (Rs 41 crore) in a pre-Series A funding round to increase fleet size, geographical expansion, and develop the technology stack. 
Follow us and connect with us on Instagram, Facebook, Twitter, and LinkedIn.
Note: If you are a budding entrepreneur and require assistance to register a Pvt Ltd Company, register a company, create financial projections, business development, LLP Registration, compliance filing, funding formalities, debt funding, CFO Services, or other startup related legal services, contact us.