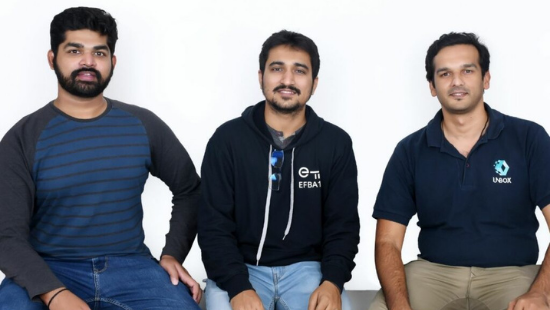 Logistics Automation Startup Unbox Robotics Raises $7M In Series A Funding
Pune-based startup Unbox Robotics has raised $7 million in a Series A funding round led by 3one4 Capital. The funding round saw participation from Sixth Sense Ventures and Redstart Labs (Info Edge).
Unbox Robotics' founders Pramod Ghadge, Shahid Memon, and its CPO Rohit Pitale, alongside its existing investors -SOSV, BEENEXT, Arali Ventures, WEH Ventures, Karthik Bhat's Force Ventures, Dr Vijay Kedia (Kedia Securities), Aditya Singh (Stride Ventures) and Pavitar Singh (Sprinklr) also participated in the funding round.
The startup plans to use the raised funds primarily to expand the team across functions, fulfil the customer demand internationally, for R & D, and expand to new geographies.
Unbox Robotics | Transforming Logistics Operations
Unbox Robotics is a Pune-based startup transforming logistics operations using AI, Robotics, and Supply Chain Process Design. The startup is building software-defined robotics platforms to enable logistics players to automate and radically improve their operations on-demand in a limited footprint and capital.
Speaking on the development, Pramod Ghadge, CEO and Co-founder of Unbox Robotics, said,
"We are obsessed with improving the ways packages are handled, distributed, and delivered to end customers. We believe there's a massive potential for building and deploying robotics tech to deliver more packages using smaller footprints at lower operational costs as we see more adoption of ecommerce and Qcommerce (quick commerce) across the globe."
As per the startup, its proprietary plug-and-play Swarm robotics can bring down the deployment time at locations to less than a week. The product's USP lies in its ability to scan, sort, and dispatch packages in less than 50-70% physical space while improving personnel productivity by more than 3X and reducing the operational cost of package sorting by more than 60%.
The Pune-based supply chain robotics technology startup has already onboarded some of the largest eCommerce and logistics enterprises as early adopters through trials/pilots. Unbox Robotics has filed IP for its technology in India, the US and the EU.
In April 2021, Unbox Robotics raised $1.2 million as a part of its pre-Series A round. Other investors who participated in this funding round include Nikhil Vora and Kathan Shah (Sixth Sense Ventures), Rahul Chaudhary (Treebo Hotels), and Veda VC.
Need legal assistance for your startup? Just contact us.
Follow us and connect with us on Instagram, Facebook, Twitter and LinkedIn.