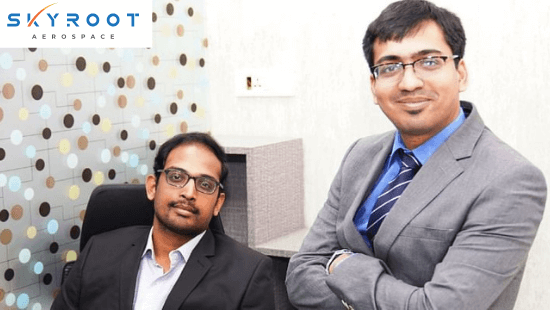 Hyderabad-Based Spacetech Startup 'Skyroot Aerospace' Partners With Department Of Space
Skyroot Aerospace, a Hyderabad-based spacetech startup, has entered into a non-disclosure agreement (NDA) with the Department of Space (DoS).
As part of the deal, Skyroot Aerospace will get access to technical expertise and facilities available in ISRO centres for its launch vehicle development programme.
Started by former ISRO scientists Pawan Kumar Chandana and Naga Bharath Daka, Skyroot Aerospace is building technologies for responsive, reliable, and economic access to space.
In December 2020, Skyroot Aerospace became the first private company that has successfully designed, developed and tested a full-solid propulsion rocket stage.
Skyroot Aerospace has till date raised $4.3 million and is in the process of raising $15 million in funding in 2021.
The spacetech startup counts Mukesh Bansal, Vedantu Investments, Solar Industries, among others as its investors.
In the Union Budget 2021, the Department of Space has been allocated Rs 13,949 crore, of which Rs 8,228 crore is earmarked for capital expenditure.
Also, New Space India Limited, a newly formed public sector undertaking under DoS, which will execute the launch of PSLV-C51 mission, has been allocated Rs 700 crore.
The Indian space economy is valued at $7 billion and forms 2% of the global space economy, as per a report by PwC.
Need legal assistance for your startup? Just contact us.
Follow us and connect with us on Instagram, Facebook, and LinkedIn.