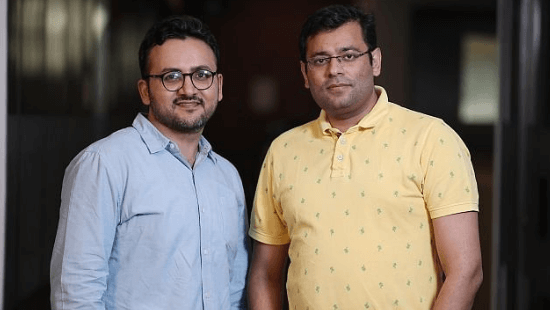 How Fintech Startup Bueno Finance Is Improving the Financial Health Of Blue-Collar Workers In India
Rapid urbanization and an increase in demand for everyday services have led to the fast expansion of the blue-collar workforce in India.
India has more than 300 million blue-collar workers, with logistics/delivery, manufacturing, and retail being the largest employers.
Though being large in number, this working segment in India is the most overlooked by their employers.
That is why the majority of these blue-collar workers face money related issues and fail in financial management.
After witnessing the difficulties faced by these workers, two entrepreneurs created a fintech startup that aims to improve the financial health of blue-collar workers in India.
Today's startup story is about-Bueno Finance, a fintech startup that provides Indian blue-collar workers with access to credit.
Startup Story: Bueno Finance | Credit Building Platform For Blue-Collar Workers
Bueno Finance Founder
Started by Sandeep Arora and Saurav Gandhi in 2019, Bueno Finance is a financial services platform that aims to improve the financial health of blue-collar workers in India.
Saurav Arora is an MBA graduate (Finance) from MDI Gurgaon (2011 batch), while Sandeep Arora is a BTech graduate from IIT Delhi (2008 batch).
The founders have 10+ years of experience in companies such as American Express, Capital One, PayU, Citi Bank, and Swiggy.
Backed by San Francisco-based Y Combinator and Mumbai-based 100X.VC, Bueno Finance solves short term cash needs and helps the customers build their creditworthiness, which leads to access to formal credit.
How Bueno Finance Started?
The duo first met in 2014 while they were leading parallel teams in Citibank.
During conversations, both agreed that there was a significant gap in blue-collar financing. Though many workers were receiving money directly into banks and salaries were increasing, credit had not picked up the pace for this segment.
Sandeep had witnessed this issue while interacting with Swiggy delivery executives during his time at Swiggy. So, to improve the financial health of blue-collar workers in India, Sandeep and Saurav started Bueno Finance in 2019.
[Read:
SaaS Startup Appy Pie Helps SMBs Build Apps With Its No Code Mobile Application Development Platform
]
USP Of Bueno Finance
Improving the financial health of blue-collar workers in India, Bueno Finance follows a hybrid approach.
A customer can apply for an instant personal loan/credit line that also helps build credit history and get higher ticket loans at lower rates. The customers can avail this loan in their bank account, directly from NBFCs registered by RBI.
The fintech platform also focuses on new-to-credit customers (NTC), where it offers small credit to help people build their credit history.
Bueno Finance also ties up with B2B employers that employ gig workers and blue-collar workers, such as Swiggy. Not only this helps in fraud prevention, but it lets the fintech startup offer better products.
Saurav says,
"In our industry, there are few players who are doing either B2B and B2C. Fintech players and small NBFCs have started targeting this segment, but they charge exorbitant interest rates to compensate for the higher 'risk' associated with this segment. Bueno Finance wants to change this situation and bring this segment to mainstream financial lending. Bueno Finance prime customers can get a loan of Rs 2-5 lakh at 15-18 percent interest."
To know about their offerings in detail, visit Bueno Finance.
Present Situation Of Bueno Finance
Presently, the fintech platform has more than 70,000 customers on our platform with 60,000-plus downloads of the Bueno Finance app.
Talking about credit needs in India, Saurav says, There is a huge demand for credit in India, and most of the traffic is organic in nature. This is impressive as our Cost to Acquire Customer (CAC) is really low."
Saurav also says 'Customer education' has been 'critical' as establishing trust and the brand are the key components of driving this business.
Future Plans Of Bueno Finance
The fintech platform plans to offer a suite of financial services to this segment with personal loans, credit cards, auto loans, and insurance. Bueno Finance also plans to make money as a percentage of the amount disbursed through its platform by helping banks acquire new customers.
Speaking on the plans, Saurav says,
"We want to acquire customers and grow around 20X in the next 18 months. We also want to build a cross-sell engine that can offer a suite of financial services to our customers."
Want to publish your startup's story? Contact us.