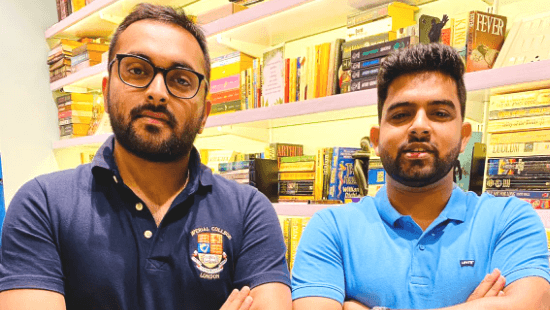 How 'cemX' Is Digitally Transforming India's Cement Procurement And Is "Cementing India's Future"
India is the 2nd largest market (Multi-billion dollar) in the world for cement consumption, with a present output of 217.8 Million Tonnes per annum.
This number is further, expected to reach 550-600 Million Tonnes by 2025, making an approximate increase of 150% over the next 5 years.
But like every industry, this industry has its shares of issues too. These issues need to be addressed, with the main issue being, the usual working of the offline domain.
In the usual offline domain, no single cement retailer can sell a wide variety of brands, and it is a heavily consolidated sector, challenged with very strong new-entrant barriers without a huge capital investment.
Also, the offline supply chain for various materials is fragmented, orthodox and unorganized.
Today's startup story is about an Indian startup that claims to be India's first B2B and B2C online procurement marketplace for cement.
The startup is taking the procurement process of cement into the digital domain and aims to achieve parity and transparency in cement pricing.
Startup Story: cemX | India's First B2B and B2C Online Procurement Marketplace For Cement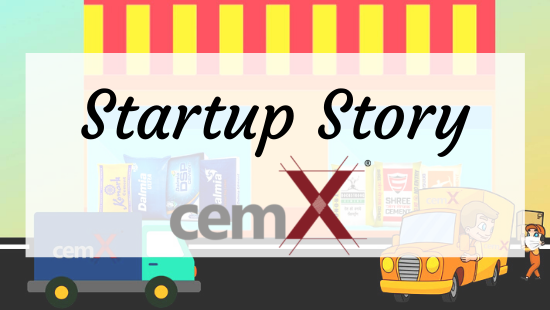 Founding Team
Registered and certified by 'Startup India', this Bihar based online procurement marketplace for cement was founded by Ashutosh Kumar Jha in May 2019, Later in July 2019, Sourav Chakraborty Joined as a co-founder.
cemX (a cement e-commerce) is a cement aggregator e-commerce platform, that efficiently redesigned the structure of an orthodox and unorganized cement distribution channel, in India.
The startup is thereby, democratizing the purchasing power of the consumers, namely the middle and lower class segments of Indian society.
How cemX Started?
cemX started with a vision to achieve parity and transparency in cement pricing. The startup is doing this by removing any arbitrage for offering economies of scale on cement pricing.
The idea of cemX was incepted in the mind of Ashutosh in March 2019, when he saw the inconsistencies in the offline domain of the cement industry and on having a closer look, he realised that the offline supply chain of cement is fragmented, orthodox and unorganized, and it needs a change.
So, Ashutosh did the initial design thinking and did the beta testing in Sitamarhi, Bihar. Later on, Sourav joined, and both of them together started building the team at cemX and have formed the company's board in October 2019 as well.
The company's primary focus is to procure cement online at the right price to help the companies, individuals, and retailers to avoid cost overruns to a very large extent.
Pointing out the differences in B2B and B2C category, Ashutosh & Sourav say,
"The B2B domain is starkly differentiated from the B2C segments as discounts do not attract the former, but a better price with cash discounts on the bags purchased as that is only available to large dealers/wholesalers of individual brands. It is usually a volume game as the rate to buy 1000 bags of cement is way more economical than buying 50 bags of cement."
cemX is digitally transforming India's cement procurement and is "Cementing India's Future".
[Read:
How IITians Turned Entrepreneurs Are Creating India's Fastest Growing Online Rental Motorbike Platform Ridobiko
]
USP Of cemX
cemX is India's first B2B and B2C online procurement marketplace for cement.
The startup acts as an aggregator platform that facilitates a direct supply channel between the large dealerships of cement and the end consumers.
These end consumers can be a real estate company, builders or small retailers, lower down on the supply chain in the B2B domain, while it also targets individual customers on the B2C side.
As an e-commerce aggregator and facilitator, cemX sets itself as the only intermediary channel aiming at cost-effectiveness and savings for the BOP sections only in Tier-2 and Tier-3 cities of India.
Present Situation Of cemX
Presently available in 10 cities, cemX (cement e-commerce,) in partnership with ZestMoney, is introducing an EMI checkout option for its customers.
With the EMI checkout option, customers can avail the best markets rates for any brand of cement, and pay in monthly instalments as per convenience for up to 12 months.
Talking about the partnership, Ashutosh & Sourav say,
"To appropriately capitalise in the lending-driven cement procurement industry, cemX has partnered with India's premier NBFC ZESTMONEY, to launch a first-of-its-kind holistic approach for quick and affordable EMI options for their end customers. This will be the first time when an EMI credit option shall be offered to any Building Material customer to cope up with the financing challenges of small and medium builders in Tier 2 and Tier 3 cities of India."
Future Plans
cemX plans on expanding to more cities and wants to establish more offline extension stores in remote geographies to promote cross-marketing and cross-retailing.
Ashutosh & Sourav say,
"cemX is breaking the barriers of geographic segregations and demographies by disrupting the human-middlemen supply chain. With a near-zero investment, offline extension stores are strategically established in remote geographies to promote cross-marketing and cross-retailing with other existing brick-and-mortar building material stores. We guarantee hassle and bargain free cement deal with faster and reliable delivery at the best market rates."
For more stories of startups, click Startup Stories.
Follow us and connect with us on Instagram, Facebook, Twitter and LinkedIn.