How BabyOrgano Is Reviving Ayurvedic Remedies And Providing Safe and Natural Solutions For Babies And Kids Care Needs
In a world where innovation and technology shape our daily lives, it is all too easy to lose touch with our roots and the natural remedies that have stood the test of time.
Ayurveda, a 5000-year-old system of medicine rooted in India, offers a wealth of wisdom and time-tested remedies passed down to us through generations. However, in the vast landscape of the market, there has been a noticeable gap when it comes to dedicated Ayurvedic brands, specifically catering to the needs of babies and young children.
To cater to this gap, BabyOrgano has emerged as India's first dedicated Ayurvedic baby care and wellness direct-to-consumer (D2C) brand, offering holistic products that prioritize the well-being of babies and young children.
The Ayurvedic baby care and wellness D2C brand brings the age-old wisdom of Ayurveda to the forefront.
Founding Team And The Brand
Founded by Riddhi Sharma and Ripul Sharma, BabyOrgano is India's first dedicated ayurvedic baby care and wellness D2C brand. 
Working on the strong foundation of kids with a time-tested Ayurveda approach, the D2C brand has rekindled the essence of Ayurveda in the kids' segment by reintroducing 5000-year-old authentic Ayurvedic, holistic health, beauty, and wellness solutions.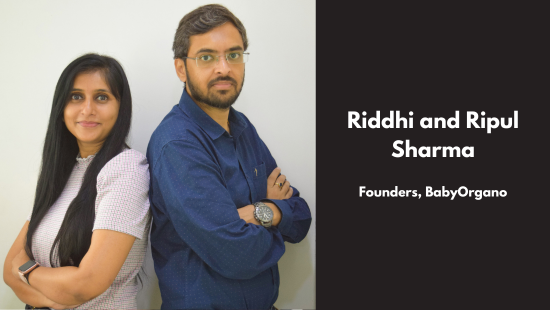 All products from BabyOrgano are 100% Natural and Ayurvedic, approved by FDCA, and manufactured under ISO & GMP certified facilities. Their products are made with powerful Ayurvedic herbs and pure & potent essential oils.
Its unique range of premium Ayurvedic kids' products includes Immunity Booster Swarnaprashan, Cold Relief Roll On, Instant Colic Relief Roll On, Ayurvedic Milk Mix Chocovita, Natural Bath Powder Ubtan and kids personal care range like shampoo, wash and lotion etc.
Starting Point of BabyOrgano | Ayurvedic Baby Care and Wellness D2C Brand
In the Indian Ayurvedic market, known for its lack of organization, a notable gap existed when it came to dedicated Ayurvedic brands catering specifically to kids.
Recognizing this need, Riddhi and Ripul, a husband-wife duo, came together to launch BabyOrgano in early 2020, providing solutions focused on Ayurvedic pediatric branch Kumar Bhartiya for kids' wellness and personal care.
"The brand's primary objective is to simplify Ayurveda for modern mothers, offering them convenient access to 100% Ayurvedic and hassle-free products delivered right to their doorsteps. With BabyOrgano, mothers can now embrace the goodness of Ayurveda with ease and confidence, ensuring the well-being of their little ones," says Riddhi Sharma in an exclusive conversation with The StartupLab.
USP Of BabyOrgano
The startup takes pride in preserving and making Ayurveda accessible, ensuring that kids benefit from the age-old wisdom of Ayurveda.
As per the startup, its products have been carefully crafted to offer the goodness of Ayurveda in the most simplified and convenient way possible, setting them apart from the competition.
Talking about the USP of BabyOrgano, Riddhi Sharma says,
"At BabyOrgano, our unique selling proposition lies in our ability to revamp and reintroduce old, time-tested Ayurvedic remedies that are currently disappearing from the market. We understand the challenges faced by modern mothers who are seeking simplified and hassle-free solutions for their children's wellness. That's where we stand out."
Growth and Future
With BabyOrgano, modern mothers can effortlessly access traditional Ayurvedic remedies, ensuring their little ones benefit from the age-old wisdom of Ayurveda in a modern, user-friendly format. With aggressive growth plans BabyOrgano plans to launch more innovative products for kids' growing needs.
For more stories of startups, click Startup Stories. Follow us and connect with us on Instagram, Facebook, Twitter, and LinkedIn.
Note: If you are a budding entrepreneur and require assistance in new company registration or other startup related legal services, contact us.