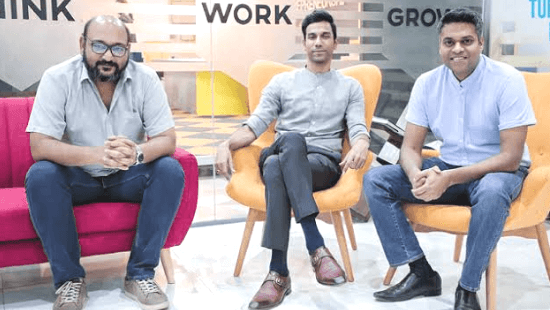 Founded By Male Entrepreneurs, This Skincare Startup Is Using AI And Generating Crores In Revenue
The need for flawless and glowing skin has turned the skincare and cosmetics industry into a massive multi-billion-dollar industry.
And according to Goldstein Research, the Indian cosmetics industry was valued at $11.16 billion in 2017. And as per the research, the industry was forecasted to grow at a CAGR of 5.91% between 2017 and 2030.
With this massive growth and a bright future of the skincare industry, many entrepreneurs have come up with their modern skincare solutions.
Just like every individual is different, their skin is also different. But the majority of the skin products are mass-produced.
So, to overcome this scenario and to provide Indian women with customized skincare products, a group of entrepreneurs founded SkinKraft.
Startup Story: SkinKraft | Customized Skincare Products
SkinKraft Founders
This Hyderabad-based startup was founded by Chaitanya, Veerendra Shivhare, and Sangram Simha.
Conceptualised in 2017, this customized skincare startup started retailing online in mid-2018.
How SkinKraft Started
During the journey of IncNut Digital, one of the startups founded by the trio, the founders came to know about the skincare product issues that the customers were facing.
Chaitanya realized that commercial companies make products for the masses, although everybody's skin is unique.
Talking about the companies in the skincare industry, Chaitanya in an interview said,
"This is because no two individuals are the same. Our skin is as unique as we are. But commercial companies make products for the masses."
So, to provide customers with customized skin care products, they started SkinKraft.
USP Of SkinKraft
Skinkraft specializes in producing customized skincare regimen. All products by Skinkraft are backed by science with 10,000 hours of research. Each product contains successfully tested ingredients to enhance skin's current health.
For every new customer, Skinkraft taps artificial intelligence (AI)-driven technology to provide dermatologically approved and customized skincare solutions to customers.
To provide the customer with the best suitable product, it asks around 30-odd questions. The process is similar to that of a dermatologist, to try and understand the skin type, acne type, and other inputs. And based on the result or skin ID, products are suggested to the customer.
Present Situation Of SkinKraft
Till now, around 3 million users have taken the Skin ID test, and the startup has more than six lakh paying users. As per the company, SkinKraft's ARR stands at Rs 100 crore, with average monthly revenue of Rs 8 crore.
Future Plans Of SkinKraft
To provide more hair products, the SkinKraft wants to go deeper into the hair segment. The startup also plans to launch customizable immunity products by the end of this month.
Read: This Startup Is Empowering Women And Is On A Mission To Make Indian Women Financially Literate
Want your startup's story to get featured? Contact us.
Stay close to the Indian Startup Ecosystem on social media, connect with us on Instagram, Facebook, and LinkedIn.