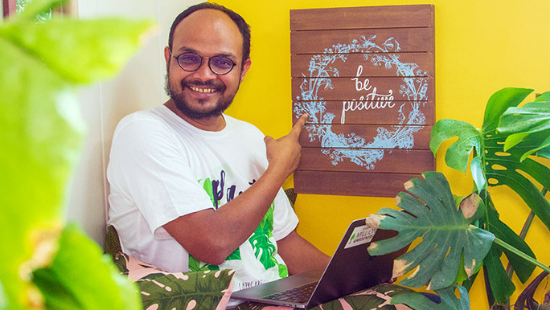 Delhi-based Startup Lazy Gardener Is Making Home Gardening Simple Using Plant Food Sticks
In recent times, home gardening has become a trend, and people are now growing a variety of plants, including flowers and vegetables, in their gardens and balconies. Amid the lockdown, the demand for gardening products online increased, and businesses catering to this segment also grew.
But to keep a plant growing, watering is not enough. In fact, a lot of the time people, end up killing their plants due to overwatering. Many don't provide proper nutrition to saplings in the earlier days, affecting their growth and health.
Vinayak Garg, a former consultant at PwC India, through its startup Lazy Gardener is solving the problems all plant parents face while growing their plants, i.e. providing nutrition to their green babies.
Startup Story: Lazy Gardener | Home Gardening Made Simple
Founding Team
Started by Vinayak Garg, Lazy Gardener is a Delhi-based home gardening platform offering innovative gardening solutions like GreenStix and BloomStix, which are plant food sticks keeping leafy foliage, flowers, and fruits nourished for two months.
Vinayak is a former consultant at PwC India and the founder of multiple startups. He bootstrapped the startup with approximately Rs 1.5 crore. 
How Lazy Gardener Started?
Born into a family of avid gardeners, Vinayak has childhood memories of khaad and blooming marigold flowers. As he grew, he realized that gardening in the busyness of daily life wasn't easy for most people.
For good plant growth, light, water, and nutrition are mandatory, and if he could provide these things easily, it could make gardening a breeze even for a lazy gardener!
So, Vinayak decided to tap into the growing urban gardening trend by solving all plant parents' issues: providing nutrition to their plants. And after two years of research and brainstorming, Vinayak developed and launched plant food sticks with inputs from various online gardening groups and started Lazy Gardener.
As per the startup, these plant food sticks, GreenStix and BloomStix, keep plants nourished for two months. 
[Read:
Bhubaneswar-based Impact Health Is Creating A Sustainable Health Impact By Providing Affordable And Accessible Healthcare
]
USP Of Lazy Gardener
Providing innovative gardening solutions online, Lazy Gardener offers plant food sticks (GreenStix and BloomStix) that claim to keep plants nourished for two months.
Vinayak says,
"You need to stick one into a pot every two months. The plant food stick dissolves every time you water your plant, providing nutrition and fertilisation."
Apart from plant food sticks, the startup also provides plant propagation stands, gardening mats, and gardening-related décors such as plant stands, hangers, and fridge magnets.
Present Situation Of Lazy Gardener
Despite the pandemic, Lazy Gardener managed to grow 4x during FY21 and is looking at a 100% year-on-year growth, claims Vinayak.
The gardening startup sells through its own website and other marketplaces, including Amazon, Snapdeal, ShopClues, and Flipkart. As per Vinayak, more than 90% of sales coming from online channels and 4-5% from their collaborations with local nurseries. 
Future Plans
Vinayak aims to make Lazy Gardener a one-stop solution for all aspiring gardeners. The online gardening startup wanted to expand more into offline channels, but the pandemic slowed down the process. The startup is also adding new categories, including soils and gardening equipment, that are expected to be launched in the next few months.
Also, now when things are coming back to normal, Vinayak says they are definitely on the right track, and once things settle down, the startup will be able to fast-track its growth even more with offline expansion.
For more stories of startups, click Startup Stories.
Follow us and connect with us on Instagram, Facebook, Twitter and LinkedIn.