Bhubaneswar-based Impact Health Is Creating A Sustainable Health Impact By Providing Affordable And Accessible Healthcare
As the impact of the COVID-19 pandemic increased in India, the gaps in the existing healthcare infrastructure got revealed. And, to keep themselves fit and fine, people started taking care of their health and opted for digital healthcare solutions.
The pharmaceutical supply chain in the country also came into the limelight. Despite being the largest provider of generic medicines globally, the pharmaceutical supply chain in the country has been underutilised and scattered.
Providing a solution to these issues, Anshuman and Ashish started Impact Health, a Bhubaneswar-based healthcare logistics and technology startup that aims to connect end-to-end points in the public healthcare system.
The startup is making the public healthcare system affordable and accessible for everyone, especially for Tier II, III, and rural India.
Startup Story: Impact Health | Creating a Sustainable Health Impact by Proactive Care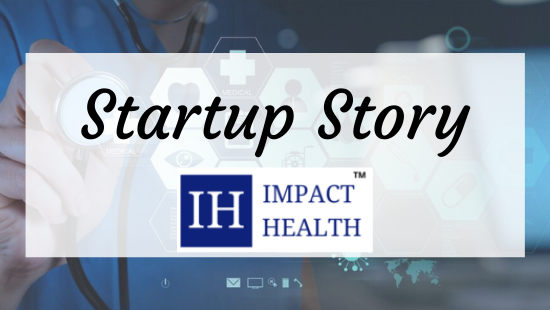 Founding Team
Started by Anshuman Sahoo and Ashish Rawat, Impact Health is a Bhubaneswar-based healthcare logistics and technology startup that is creating a sustainable health impact by proactive care. The startup is committed to delivering quality patient care with its dynamic healthcare technology and healthcare logistics solutions.
The startup has created a platform for end-to-end health journey with customized offerings for the School Health Programs, Corporate Health, and Wellness Programs, as well as Population Health Programs.
How Impact Health Started?
Anshuman, a business administration graduate from Christ University, Bengaluru, was always concerned about public healthcare. And during his time at the AIESEC exchange programme in Indonesia, Anshuman did a lot of research in the space of public health and the issues at the ground level.
When Anshuman came back to India, he started working in the space of population health with a startup, focussing on chronic diseases like asthma, diabetes, COPD, and cardiac failure. Anshuman then designed and implemented chronic disease management projects for pharmaceuticals, corporate CSRs in India and abroad, including Russia and Uzbekistan, to name a few.
In 2019, Anshuman met Ashish, a data scientist, and they talked about how they could make healthcare more accessible and affordable. They stayed on course, and after a few months of research, in March 2020, the duo started Impact Health.
After starting, Anshuman and Ashish identified there was no detailed, well-maintained health record of people, especially in rural and semi-urban areas.
Anshuman says,
"Thus, we came up with a health record. Later, with my expertise and experience in population health as well as guidance from expert physicians, we evolved and created a Patient Support Program (PSP)."
[Read:
How Healthtech Startup MyDiagnostics Is Transforming Indian Healthcare With Its Preventive Care Diagnostic Services
]
USP Of Impact Health
Aiming to connect end-to-end points in the public healthcare system, the startup helps all the stakeholders of the healthcare system with the early detection and diagnosis of diseases.
Leveraging technology to provide a point of care diagnostics, treatment, follow-ups, on-site injection and drug administration, patient counselling, and adherence, Impact Health is helping patients detect diseases early and bring pharmaceuticals closer to them.
Impact Health, through its value-added service of Patient Support Program, is supporting patients throughout their health journey-right from disease identification to treatment and adherence.
Patient Support Program (PSP) also enables pharmaceutical companies, NGOs, or corporate CSR entities, to map diseases, identify diseases and focus on geographies accordingly.
Anshuman says,
"Our programmes are customised to help the clients in their disease-specific intervention on each level. We focus on disease identification and mapping, especially for chronic, severe, and rare diseases, through point of care diagnostics, thereby reducing the cost and time frame for the patient from the disease being identified to being treated."
Present Situation Of Impact Health
Till now, Impact Health has onboarded 15 doctors from Tier-I hospitals to cater to the rural population. These areas include parts of Karnataka, Bihar, Jharkhand, Rajasthan, UP, Odisha, and some parts of Maharashtra.
Anshuman says,
"Cumulatively, we have treated close to 600-700 patients for COVID-19 alone as a philanthropy initiative during the second wave. At present, we have one pharmaceutical client in the pipeline for the implementation of a patient support program soon after Covid restrictions are eased in the target geography."
Future Plans
Impact Health is looking to raise a pre-seed investment to design and implement sustainable healthcare models for NGOs and CSR entities. The healthtech startup is also looking to scale up its team in small towns and rural areas for the PSP with pharma and corporate entities.
Anshuman says,
"Our aim is to make healthcare accessible, especially for the Tier II, III, and rural India, and at the same time make it affordable."
For more stories of startups, click Startup Stories.
Follow us and connect with us on Instagram, Facebook, Twitter and LinkedIn.