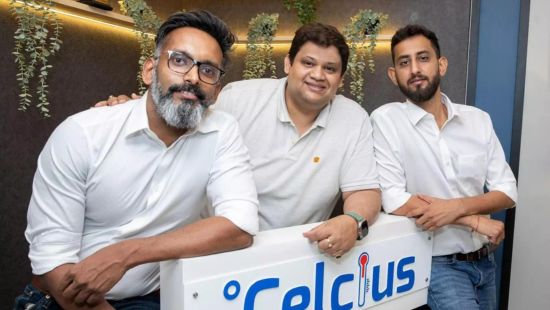 Celcius Logistics Closes Series A Round With Rs 100 Cr Funding
Celcius Logistics, a cold chain marketplace startup, has closed its Series A funding round by raising a total amount of Rs 100 crore, led by IvyCap Ventures.
Earlier, as part of its Series A funding, the company had raised around Rs 34 crore from its existing investors – Mumbai Angels, Supply Chain Labs, Endurance Capital, VCats, Huddle, Eaglewings Ventures (EVAN), and others.
As per the startup, the freshly raised funds will be used for tech innovations to solve the fragmented nature of the cold supply chain and reduce the wastage in perishables, thereby building towards a sustainable future.
Celcius Logistics | Asset Light Cold Chain Marketplace
Founded by Swarup Bose, along with co-founder Rajneesh Raman, Celcius Logistics is a tech-powered cold chain network for reefer trucks and cold storage facilities.
The asset-light startup offers an integrated online smart platform that provides end-to-end supply chain solutions, including transport, warehousing, last-mile, and hyperlocal delivery services for all stakeholders across the cold chain network.
Speaking about the development, Swarup Bose, Founder and CEO of Celcius Logistics, said,
"We are grateful to our investors for their unwavering support and belief in the vision and mission of Celcius. From our humble beginnings with just 5 employees during the COVID pandemic, we have become a leading player in the cold supply chain industry, with a team of 125 dedicated employees and an operational presence in 350+ cities across the country. Having raised more funds, we aim to further expand our operations and build a seamless and truly unbroken cold supply chain, ensuring food security for all."
Celcius Logistics efficiently and transparently allows users to explore, book, monitor, and receive real-time updates and data analytics about their cold supply chain needs.
The web and app-based SaaS platform brings the complete cold chain solution network online, be it matching a consignor with a transporter or reshaping the infrastructure around Reefer trucking to allocate cold storage resources pan India.
With its end-to-end cold chain solutions, Celcius Logistics targets markets such as pharma, dairy, fresh agriculture produce, fruit export, seafood and distribution of COVID-19 vaccines.
The tech-enabled platform claims to have a network fleet of over 4500+ reefer vehicles, 107 cold storage facilities, 7 distribution centers, and 100+ hyperlocal riders. It has a team of 125 dedicated employees and is operational in 350+ cities across the country.
Commenting on the development, Vikram Gupta, Founder and Managing Partner of IvyCap Ventures, said,
"We are glad to have partnered with Celcius Logistics, which is revolutionizing the cold supply chain sector with its innovative approach. Given its focus and the expertise of the team, we are confident that Celcius will emerge as the leading brand in this space."
In December 2022, Ecozen, a Pune-based agritech startup that offers cold chains solutions with Ecofrost, raised $10 Mn (INR 82.4 Cr) from Nuveen Global Fund as the second tranche of its INR 200 Cr Series C funding round.
Follow us and connect with us on Instagram, Facebook, Twitter, and LinkedIn.
Note: If you are a budding entrepreneur and require assistance to register a Pvt Ltd Company, register a company, create financial projections, business development, LLP Registration, compliance filing, funding formalities, debt funding, CFO Services, or other startup related legal services, contact us.