Bootstrapped Startup GeeksforGeeks Is Helping Students Crack Job Interviews At IT Companies
The most common problem students face after completing their studies is finding worthwhile resources and guidance for interview preparation.
Most of the courses don't provide students with the actual skill they will require in their jobs, leaving them untrained and jobless.
Providing a solution to the issue, today's story is about an Indian startup that is a one-stop destination for all the placement-related concerns of students looking for a career in software development.
The startup story is about Delhi-NCR based bootstrapped startup GeeksforGeeks.
Startup Story: GeeksforGeeks | A Computer Science Portal For Geeks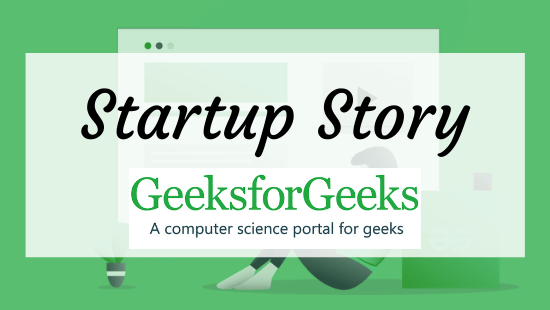 GeeksforGeeks Founder
Started by Sandeep Jain, an IIT Roorkee alumnus, GeeksforGeeks is a platform that offers programming content, interview experiences, practice problems, tutorials, online and offline courses, etc., helping students crack the interview of any IT company.
Before launching GeeksforGeeks, Sandeep Jain worked in DE Shaw and Co. as a software developer.
How GeeksforGeeks Started?
A decade ago, Sandeep always faced problems in finding worthwhile resources and guidance for interview preparation.
And when Sandeep left his job at DE Shaw and Co. to follow his passion for teaching, joined JIIT Noida as Assistant Professor, Sandeep realised students still face the issues he faced a decade ago.
Sandeep realised students needed to find one platform that provides them all the information they need while finding a job.
Identifying this problem as a business opportunity, Sandeep launched GeeksforGeeks, a one-stop destination for all the placement-related concerns of students looking for a career in software development.
USP Of GeeksforGeeks
GeeksforGeeks provides students with the resources and guidance they require for IT interview preparation.
The platform offers free tutorials, millions of articles, live, online and classroom courses, frequent coding competitions, webinars by industry experts, internship opportunities and job opportunities.
As per Sandeep Jain,
"This platform has been designed for every geek wishing to expand their knowledge, share their knowledge, and is ready to grab their dream job."
The startup works with industry experts for its online courses and offers multiple features like schedule flexibility, self-paced learning, recorded lectures, and more to help make the learning process more convenient and worthwhile.
On the platform, users can also practice as many programming problems, track their progress, and view their rank among other programmers without any hassle.
Present Situation Of GeeksforGeeks
GeeksforGeeks started with a team of six people in 2010 and now has grown to over 150 employees.
In a short span, the startup has built a community of 1 Million+ 'geeks' around the world, 20,000+ Contributors and 500+ Campus Ambassadors in various colleges across the nation.
Sandeep claims that according to Alexa Ranking, the current Global Traffic Rank of the website is 277, and in India, it has been regularly ranking around 50th position.
As per Sandeep, the website reaches nearly 1.5 million users each day, generating four million daily page views.
GeeksforGeeks' main sources of revenue are Google Ads and the courses. The bootstrapped startup also offers some premium content and has also launched premium features, like interview experiences, online and live courses and numerous practice problems, for a small fee.
Sandeep says,
"Whether you're a student or a working professional — anyone can contribute to GeeksforGeeks and share their knowledge. The contribution process is also quite simple as all you're required to do is visit the 'Pick an Article' section and choose a topic as per your interest from a pool of topics and submit it once you'll be done with the writing process."
Future Plans Of GeeksforGeeks
As per the founder, GeeksforGeeks plans to organise various new campus programmes all over the nation to guide students in all possible ways.
Sandeep adds,
"Also, as online learning is becoming the new normal, we're trying to use all the latest technological advancements in the edtech domain."
Read: Mumbai-Based Startup Upside AI Uses Machine Learning To Invest In The Indian Stock Market