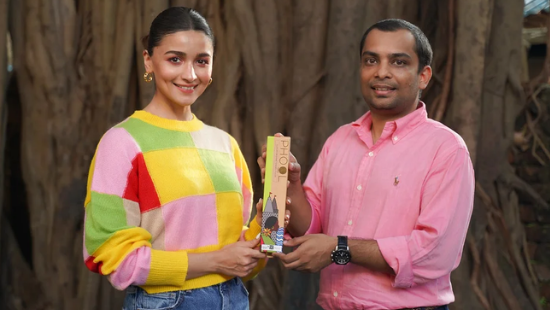 Bollywood Star Alia Bhatt Invests In D2C Startup Phool.co
D2C startup Phool.co has raised funding from actor and entrepreneur Alia Bhatt, who earlier had invested in the omnichannel lifestyle retailer Nykaa.
Phool.co focuses on flower cycling technologies to upcycle cellulose waste and specialises in manufacturing charcoal-free incense and other wellness products.
Speaking about the startup, Alia Bhatt said,
"Phool incense really stands out for its fine natural fragrances and amazing packaging. I admire the founder's vision of making incense and bio-leather from recycled flowers that contribute to keeping our rivers clean, creating a humane alternative to leather, and providing employment to women in India's heartland."
Phool | Fragrance Of Sacred Flowers
Launched in July 2017 by engineering graduate Ankit Agarwal, the startup collects floral waste from the temples and mosques in Uttar Pradesh, thus preventing 7600 Kgs waste flowers and 97 Kgs toxic chemicals from getting into the river daily.
The waste is then handcrafted by rural women self-help groups into patented organic fertilizer, charcoal-free luxury incense and other wellness products via flower cycling.
Speaking about the development, Ankit Agarwal, Founder of Phool.co, said,
"At Phool.co, we aim to drive systemic change through innovation. Alia's investment is a validation of our efforts and firmly sets us on a path to build a global success story from a Tier III city. The investment and support will help us expand our footprint globally and also step up the pace of R&D. I can proudly say, Phool.co is a business built, led and now even invested in by women."
The D2C startup, with deeptech research, has successfully developed a commercially viable alternative to animal leather called Fleather. It was recently awarded PETA's best innovation in the Vegan World. With the expansion in its operations, Phool.co has consistently achieved 130% year-on-year growth for the past two years.
Need legal assistance for your startup? Just contact us.
Follow us and connect with us on Instagram, Facebook, Twitter and LinkedIn.