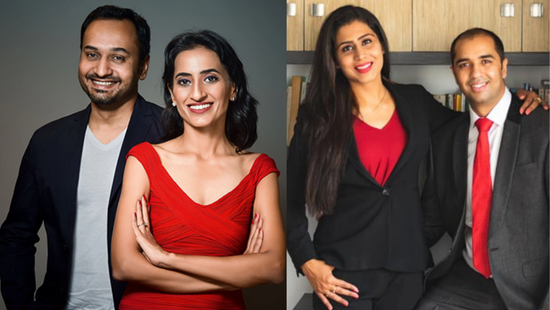 Blending Love and Entrepreneurship: 7 Popular Indian Startups Launched By A Husband-Wife Duo
Entrepreneurship has always been part of the Indian cultural fabric, with more than 60,000 unique startups currently operating in the country. What's particularly fascinating about the Indian startup ecosystem is that numerous successful husband-and-wife duos are leading some of the most innovative startups in India.
Despite the common advice of not mixing personal and professional life, these 7 husband-and-wife teams are proving that it can be done and done well.
7 Popular Indian Startups Launched By A Husband-Wife Duo
So, here is the list of 7 successful husband-and-wife duos who have proven that a happy personal life and a successful professional life are both achievable with a good understanding and respect for each other.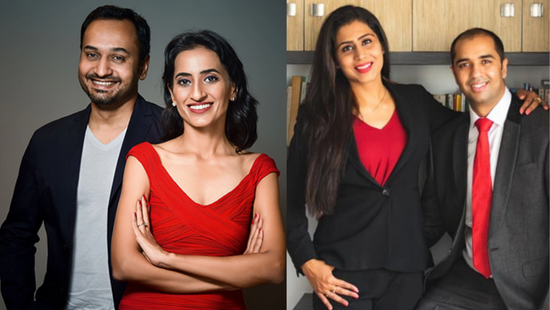 1. Swati & Rohan Bhargava, CashKaro
Founded by Swati & Rohan Bhargava in 2013, CashKaro is a Gurugram-based cashback & coupon platform backed by honourable Mr Ratan Tata & one of India's leading VC firms, Kalaari Capital.
The startup, through its various apps like CashKaro, EarnKaro, CashKaro Stores (for assisted ecommerce), and BankKaro, offers coupons, price comparisons, and deals to consumers.
It is a one-stop destination for savings on all online shopping, enabling its 20 million members to compare prices, earn extra cashback and get free coupons across 1500+ e-commerce sites like Flipkart, Amazon, Tata CliQ, Myntra, Nykaa Fashion etc.
In November 2022, CashKaro raised Rs 130 crore in a Series C funding round for the expansion of the CashKaro and EarnKaro brands and new technology and product development.
2. Sourabh Deorah and Smiti Bhatt Deorah, Advantage Club
Founded by husband and wife duo Sourabh Deorah and Smiti Deorah, Advantage Club is a Gurugram-based employee engagement platform providing end-to-end employee benefits management with products like employee perks, Hobby Clubs, Digital engagement, etc.
This global employee engagement platform comes with features like rewards, recognition, community building, and FlexBen on a unified platform. It claims to be working with more than 370 companies across 60+ countries, including Hexaware, EY, Concentrix, Teleperformance, Target and more.
Advantage Club, with its unified platform, brings a wide variety of recognition programs, including milestone/anniversary/years-of-service awards, real-time spot bonuses, automated incentives, peer-to-peer appreciation, onboarding programs, wellness programs, quarterly & annual performance awards, gift card programs, exclusive offers across 10,000+ global brands, etc.
In November 2021, Advantage Club raised an additional $3.3M in Pre-Series A funding round.
3. Vivek Prabhakar and Subhra Chadda, Chumbak
Founded by Vivek Prabhakar, along with his wife Subhra Chadda, Chumbak is a Bengaluru-based design-led lifestyle brand that offers a range of products across categories, including apparel, dining, decor, beauty, bags, and gifting, through both online and offline channels.
The Bengaluru-based startup is present in over 50+ stores across 20+ cities, catering largely to creative shoppers looking to explore and indulge in unique, joyful designs in the home.
In September 2022, Chumbak raised Rs 3 crore through Revenue Based Financing platform Klub.
4. Vineeta Singh and Kaushik Mukherjee, SUGAR Cosmetics
Founded by IIM-Ahmedabad graduates and husband-wife duo Vineeta Singh and Kaushik Mukherjee in 2012. SUGAR Cosmetics Mumbai-based cosmetics startup that offers make-up products to suit Indian skin tones.
Manufactured in state-of-the-art facilities across Germany, Italy, India, the USA and Korea, SUGAR ships its bestselling products across Lips, Eyes, Face and Nail categories across the world.
In May 2022, SUGAR Cosmetics announced the close of its $50 million Series D round led by the Asia fund of L Catterton, a global consumer-focused private equity firm.
5. Bipin Preet Singh and Upasana Taku, MobiKwik
MobiKwik is a Gurugram-based digital payments startup offering consumer payments, payment gateway, and financial services. The fintech startup provides a platform to enable users to recharge and pay bills for mobiles, electricity, transfer money, and book bus tickets, among several other services.
In May 2019, the startup launched MobiKwik Zip, its flagship BNPL product, with a focus on the Indian middle-class population to enable them to make payments for daily life use cases.
Presently, MobiKwik is one of the largest mobile wallets, and the largest Buy Now Pay Later (BNPL) player in India. Its payments network is one of the largest in India, with more than 120 million users, 3 million+ merchants, and 300+ billers.
6. Ghazal Alagh and Varun Alagh, Mamaearth
Founded by Ghazal Alagh and Varun Alagh, Mamaearth is a D2C safe beauty and baby skincare startup that offers skincare, haircare, and baby care products that are made using safe, pure, gentle, natural, and toxin-free ingredients.
As per CrunchBase, Mamaearth has raised a total of $111.6M in funding over 8 rounds. In December 2022, Honasa Consumer, parent of Mamaearth, filed its draft red herring prospectus and is looking to raise Rs 400 crore through a fresh issue of shares, apart from an offer for sale of around 4.7 crore shares.
7. Anand Shahani and Mehak Sagar, WedMeGood
Founded a husband-wife duo Anand Shahani and Mehak Sagar in 2014, WedMeGood is an Indian wedding planning startup where couples who are planning their wedding can search for local vendors and discover ideas and inspirations for their wedding.
This Gurugram-based wedding platform offers services like the venue, photographers, makeup artists, decorations, catering, and DJs. Additionally, Users can browse through extensive details of vendors, including reviews, prices, contact information and other FAQs.
Currently, WedMeGood lists over 91,000+ wedding vendors across 200+ cities in India for all wedding services, including Photographers, Makeup Artists, Decor, Bridal Wear, Grooms Wear, Invitations, Mehendi Artists, Wedding Planners, Jewellery, Trousseau Packers, Venue Bookings, Catering, Wedding Cakes, DJs, Choreographers, Accessories and many more.
Follow us and connect with us on Instagram, Facebook, Twitter, and LinkedIn.
Note: If you are a budding entrepreneur and require assistance to register a Pvt Ltd Company, register a company, create financial projections, business development, LLP Registration, compliance filing, funding formalities, CFO Services, or other startup related legal services, contact us.