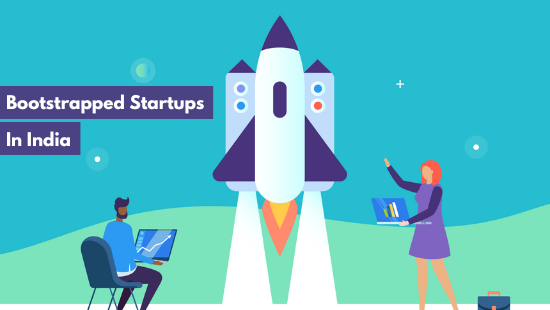 5 Bootstrapped Startups In India Dominating The Business World
From the last decade, India has emerged as a powerhouse of innovation. India secures 2nd position globally with around 15,682 startups. 1st position is acquired by the US with 75,712 startups. Bootstrapped startups in India have always been the inspiration in the startup world.
In India, 108 unicorns are registered by the end of May 2023 with a total valuation of $340 Bn. Unicorn is a very abstract term in the startup ecosystem. Any startup is considered "Unicorn" when they reach a valuation of $1 Bn (Approx ₹8200 crores). More valuation doesn't necessarily mean that it should be profitable. Bootstrapped startups are something that are compulsorily profitable and self-sustainable.
I am sure you know what Bootstrapping means in the business context. In case, you are still unclear about the term.
Bootstrapping means self-financing a business. It refers to using only existing resources or profits generated in last period, i.e. no venture capital or business loans.
Building bootstrapped startups is a source of immense pride, respectfulness, and determination. Bootstrapped startups in India are invaluable because their owners have a strong belief in their vision. Also, they always have an USP to create amazing user experiences and be profitable.
The StartupLab has created a list of 5 successful bootstrapped startups in India that are dominating the business world. Let's have a look at it.
5 Bootstrapped Startups In India
Several bootstrapped startups in India have achieved sustainable growth and are still growing. To provide you with more detail, Let's go into deep.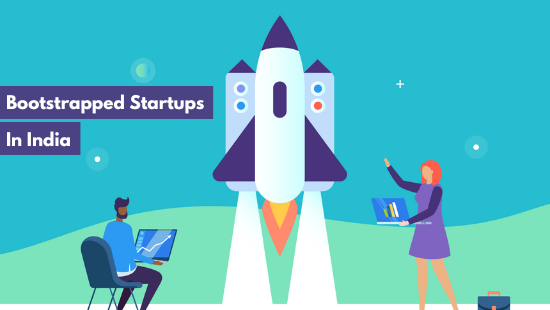 1. GeeksforGeeks
Founded by Sandeep Jain, an IIT Roorkee alumnus, GeeksforGeeks is a platform that offers programming content, tutorials, millions of articles, live, online and classroom courses, etc. helping students crack the interview of any IT company.
Designed for geeks, the startup makes learning accessible and affordable for programmers. It also runs frequent coding competitions and offers webinars by industry experts, internship and job opportunities.
The startup has been creating an abundance of high-quality information, ranging from programming problems for practice to basic to premium courses, technologies to admission exams, and essays on various computer science topics.
In a short time, the startup has established a community of 1 million or more Geeks worldwide, 20,000+ contributors, and 500 or more Campus Ambassadors in different colleges across the country.
2. Zerodha
Zerodha is a fintech startup that offers brokerage-free equity investments, retail, institutional broking, currencies, and commodities trading.
Founded by Nithin Kamath and Nikhil Kamath, Zerodha is a member of the NSE, BSE, and MCX and has offices in nine Indian locations, with its headquarters in Bangalore.
Zerodha, which clocks about 10-12 million orders every day, reported an active client base of around 6.2 million as of March 31, 2022, as per the National Stock Exchange (NSE) data. Recently, the fintech startup posted an almost 60% year-on-year jump in both its profits and revenues for 2021-22 at around Rs. 1,800 crore and Rs. 4,300 crore, respectively.
3. Wingify
Founded by Paras Chopra, Wingify is a Delhi-based startup that provides SaaS tools to online businesses for their conversion rate optimisation (CRO) process via its flagship and internally developed tool, Visual Website Optimiser (VWO).
Wingify has over four thousand clients across 90+ countries, with a customer list including brands like Microsoft, Lenovo, Walt Disney, Target, Target, Virgin holidays, eBay, and Ubisoft.
The SaaS startup has recorded profitable growth during the last three fiscals, posting a profit of Rs 51.5 crore for FY21. It has recorded a 28% jump in profit compared to Rs 40.24 crore earned in the previous fiscal (FY20).
4. SocialPilot
SocialPilot is a social media scheduling and marketing tool for social media professionals, digital marketing agencies, social media power users, bloggers and any individuals who want to increase their social media presence effectively.
This easy-to-use social media marketing tool sells its services through marketing agencies. It counts the State of New York, United Nations, State of New Hampshire, Walmart, Compass, Automatic and the US Army as clients.
SocialPilot was also nominated for ET Startup Awards 2021 in the Bootstrap Champ category.
5. Zoho
Founded by Sridhar Vembu and Tony G Thomas, Zoho is a SaaS unicorn based out of Chennai. Zoho offers 50+ solutions for segments, including finance, recruitment, support, and sales and marketing.
The firm, which completed 25 years in 2021, has been profitable every single year since its inception. In FY21, Zoho posted a total PAT of INR 1,917.7 Cr, a 139.4% rise from FY20.
With offices in the US, UAE, Japan, Singapore, and eight other nations, Zoho employs 12000+ people and has more than 75 million customers globally. In a recent news report by ET, Manage Engine, the enterprise IT management division of Zoho Corp, plans to hire 1,000 Indian employees by 2022-end.
Follow us and connect with us on Instagram, Facebook, Twitter, and LinkedIn.
Note: If you are a budding entrepreneur and require assistance in startup compliance services, new company registration or other startup related legal services, contact us.

FAQs on Bootstrapped Startups in India

What is a bootstrapped startup?

Bootstrapping is a process of running a startup using generated profit or the money invested by the founders. Bootstrapping can be good if the founders don't want to dilute their equity but it can hamper the rapid growth in revenue.

Which is the most successful bootstrapped startup in India?

Zerodha is one of the most successful bootstrapped startups in India with Rs. 5460 crores in FY23 i.e. 10% increase than FY22 which was Rs. 4962 crores.