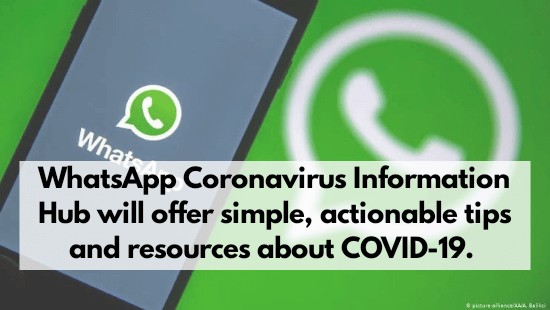 WhatsApp To Launch 'WhatsApp Coronavirus Information Hub' To Fight Against COVID-19's Fake News
To fight against the spread of fake news and misinformation related to COVID-19, Facebook owned Whatsapp in partnership with the WHO, UNICEF, and UNDP has started WhatsApp Coronavirus Information Hub.
WhatsApp Coronavirus Information Hub will offer simple, actionable tips and resources about COVID-19. 
This will help people to be well informed and also will help to reduce the spread of rumors.
The company also said that it is donating $1 million to the Poynter Institute's International Fact-Checking Network (IFCN). 
Talking about this initiative and donation,Head of WhatsApp Will Cathcart said,
"We are also pleased to be able to partner with the Poynter Institute to help grow the amount of fact-checking organizations on WhatsApp and to support their life saving work to debunk rumors. We will also continue to work directly with health ministries around the world for them to provide updates right within WhatsApp."
Baybars Orsek, Director of IFCN also said that this 'timely donation' from WhatsApp will help the fact-checks published by the CoronaVirusFacts Alliance to reach wider audiences.