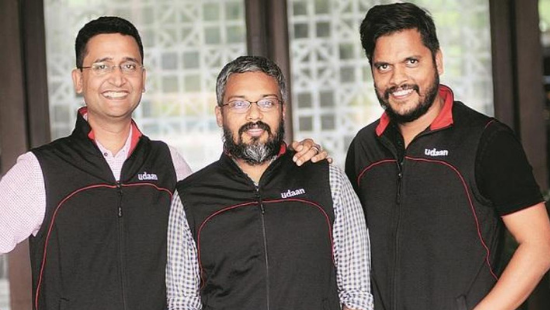 Udaan Aims 100 pc Y-O-Y Growth In FY22
B2B eCommerce startup Udaan is aiming for 100% year-on-year growth this financial year. As per the founders, the startup is well on track to become India's largest commerce platform, not just the biggest eCommerce platform.
Started by Amod Malviya, Sujeet Kumar, and Vaibhav Gupta, Udaan is transforming the trade ecosystem in the country, leveraging technology.
Highlighting the completion of five years of operations this week, the founders, in an internal mail, stated that Udaan is on track to become India's largest commerce platform.
The founders added,
"We have invested more than Rs 4,000 crore in the past 12-18 months across different pillars of business – technology, supply chain, category, credit, people, compliance, etc. – to accelerate and strengthen our capabilities. This is already showing in our growth, and we continue to aim for 100 percent y-o-y growth this financial year."
The B2B eCommerce firm has over 3 million users and more than 30,000 sellers on its platform. With over 1.7 million retailers, Kirana shops, HoReCa, chemists, and farmers, Udaan offers more than 5 lakh different products curated across 2,500 brands.
Currently, Udaan has a warehousing capacity of over 10 million square feet with 200 warehouses which it plans to expand fivefold to 50 million square feet across several states in the next 7-8 years.
Need legal assistance for your startup? Just contact us.
Follow us and connect with us on Instagram, Facebook, Twitter and LinkedIn.