This Mumbai-Based Auto Startup Ensures Transparency For Users While Buying Pre-Owned Cars
Because of the affordability factor, the pre-owned car market in India is growing at a steady rate.
In 2020, 4.4 Mn units of pre-owned cars were sold.
And as per a report by Mahindra First Choice Wheels Ltd, the used car market in India is estimated to reach between 6.7 million units and 7.2 million units per year by 2022.
Though growing, the segment is highly unorganised, making it difficult for buyers to get a certified pre-owned car.
Providing a solution to the issue, Pranav Sheth started LeleCarr, an online platform that makes it easy for people to buy and sell pre-owned cars.
Startup Story: LeleCarr | Online Platform For Pre-Owned Cars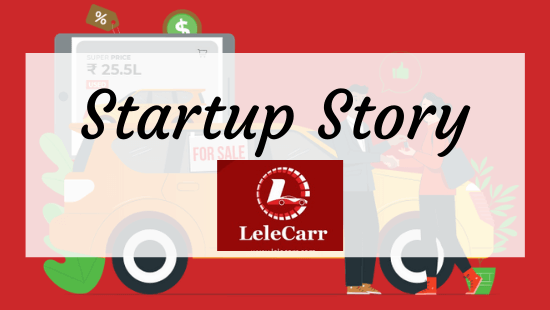 LeleCarr Founder
Started by Pranav Sheth in 2020, LeleCarr is an Autotech startup that, through its online platform, enables pre-owned car purchases at affordable costs.
For dealers and private sellers, the startup markets vehicles more effectively while connecting them directly with buyers.
Pranav, who has been associated with his family business of selling cars since the age of 16, pursued BCom from Mumbai University and graduated in 2011.
How LeleCarr Started?
Pranav started LeleCarr to provide price and information transparency which existing companies in the segment don't provide.
As per Pranav, the pre-owned car industry has largely been unorganised.
Pranav says,
"Presently, the online Indian used car industry is dominated by aggregators and is full of tall unrealistic claims and marketing funds. On the grounds, the situation is completely different. Buyers are extremely disappointed by the price displayed online and the real sales price."
He adds,
"I realised that the pre-owned car industry has largely been unorganised. Apart from that, a digital revolution in the automobile industry is really necessary. Looking at these gaps, I wanted to use technology to solve this problem and restructure the pre-owned car buying and the selling process for the customers."
So, to provide users with a better buying experience backed by tech, Pranav started LeleCarr in 2020.
USP Of LeleCarr
Backed by a strong dealer network, LeleCarr enables its users to get certified pre-owned cars and provides them with a hassle-free experience.
Speaking on the USP of the platform, Pranav says,
"Buying a car online is different from buying regular goods over eCommerce. Dealers play a pivotal role in quality checks, paperwork, finance, insurance, and legal registrations, which is a cumbersome process. Our USP is that we assure customers with certified pre-owned cars sourced through the local dealership network. We enable our car buyers and dealers to have a smooth handshake when the car is sold."
Present Situation Of LeleCarr
LeleCarr claims to have served more than 1,000 customers to date. With aims at transforming the used car market by empowering local pre-owned car dealerships, the startup onboarded over 100 leading dealers in less than a month.
Future Plans Of LeleCarr
LeleCarr aims to be the go-to destination for pre-owned purchases at affordable costs and give the buyers a wide range of used car options, competitive prices, quality assurance, and a hassle-free buying experience.
The platform also plans to onboard 1,000 dealers across India.
Read: Fintech Startup Findeed Is Empowering Millions Working-Class Indians By Providing Them Access To Credit