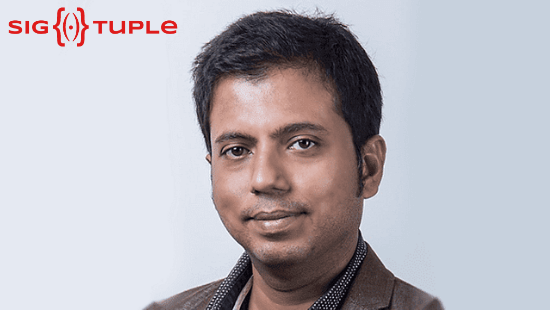 This Is How Healthtech Startup 'SigTuple Technologies' Is Leveraging AI To Build Smart Screening Solutions
The integration of technology in healthcare has made healthcare services more accessible, and they are now easily available to the masses.
And since the COVID-19 pandemic has occurred, people are taking proper care of their health, resulting in the exponential growth of healthtech sector.
Today's story is about one such healthtech platform that combines artificial intelligence (AI), robotics, and data science to build smart screening solutions that are accessible and affordable. 
Startup Story: SigTuple | Smart Screening Solutions
SigTuple Founder
Founded by Tathagato Rai Dastidar, Rohit Pandey and Apurv Anand in 2015, SigTuple Technologies is a Bengaluru-based healthtech startup that combines artificial intelligence (AI), robotics, and data science to build smart screening solutions that are accessible and affordable.
However, in June this year, Tathagato had to let go of the two co-founders. But, despite the adversities, he is set to take his startup to greater heights.
Backed by the likes of prominent investors like Accel Partners and Chiratae Ventures, SigTuple Technologies has raised $40.8 million in funding so far.
[Read:
Healthcare Industry In India
]
How SigTuple Started?
It all started when Tathagato Rai Dastidar lost his father almost two decades ago to misdiagnosis of acute myeloid leukaemia. This led him to quit his job and take the entrepreneurial road.
Tathagato aimed to make the life of a doctor simpler, eliminate manual errors, and enable telemedicine so that screening tests can be made accessible to a larger population.
So, in early 2015, Tathagato quit his job at Tribune Digital Ventures to found the healthtech startup along with his former colleagues from American Express, Rohit Pandey and Apurv Anand.
Tathagato started SigTuple with the ambition to automate the manual review of visual medical data by using artificial intelligence (AI). He was confident that healthcare had a lot of data, which was not being put to good use.
And since the beginning, the team has published several research papers and has been granted 11 patents as well. SigTuple, after running numerous clinical validations, obtained international regulatory clearance (CE mark) for two of its products.
USP Of SigTuple
The healthcare startup operates in the fields of pathology and ophthalmology.
In the pathology vertical, SigTuple offers two solutions- an automated digital microscope and an AI platform.
The automated digital microscope, called AI100, is powered by AI and converts a physical sample into digital images.
These digital images are then analysed by the AI platform to create a report for review by the pathologist.
In the ophthalmology vertical, the startup's AI platform analyses the retinal images to detect diabetic retinopathy, glaucoma, and age-related macular degeneration (AMD).
Present Situation of SigTuple
SigTuple charges its clients for its hardware and cloud services and targets hospital labs, laboratory chains, or standalone labs, and diabetic clinics or diabetic retinopathy screening centres.
Presently, the healthcare startup has onboarded around 20 partner clients so far.
Future Plans of SigTuple
SigTuple is focusing largely on geographical expansion and is working on its USFDA clearance.
USFDA clearance will allow it to enter the US market. Also, going ahead in its journey, the healthcare startup plans to onboard more than 100 partner clients.
Read: How Jaipur Based Insurtech Startup 'iAssure' Is Providing Quality Insurance Plans At Affordable Price