This Entrepreneur From Assam Is Revolutionising The Instant Tea Industry With His Ready to Drink Tea Startup Tea Bro
Tea has been the go-to beverage of India and stands as the second most drunk beverage after water. For us Indians, a cup of tea in the morning is synonymous with starting the day on a perfect note. Because of this love for tea, the revenue of the Tea market In India amounts to US$17,589.9m in FY 2021. Additionally, the tea market in India is expected to grow annually at a CAGR of 5.78% over the period 2021-2025.
However, with urbanization and changing lifestyles, the tea industry is witnessing a new trend among tea lovers. Now, the Instant Tea market is gaining a lot of traction and acceptance among tea lovers.
Banking on this trend, Kartic Sharma, an entrepreneur belonging to a tea farming family in Assam, is hitting the market with his D2C tea startup Tea Bro.
Founder And The Startup
Started by Kartic Sharma in July 2021, Tea Bro manufactures and sells Pre-Brewed Tea Liquid. It is a patent-pending product and a 'Ready to Drink' Tea which is pre-brewed to perfection from the finest Assam Teas.
Tea Bro is a new category in the instant Tea market– Pre-Brewed Tea Liquid Decoction. The startup controls the entire supply chain of tea farming- right from farming, processing, blending, packaging, retail and exports.
Their teas are handpicked from the finest tea bushes from their manicured gardens. These green tea leaves are then processed from 'customized machinery' and finally brewed under perfect conditions (temperature, pressure, pH, time, etc.). The final result is a 10ml tea decoction. By mixing hot water into the tea decoction, tea lovers get the most perfectly balanced cup of tea.
Tea Bro | Beginning Of The Entrepreneurial Journey
Belonging to a family from Assam who has been involved in the Tea industry for over three generations, Kartic knows the tea industry from the inside out.
"We have seen the industry closely for the last 38 years and have realized that there has been very little improvement/innovation. Moreover, the way people consume tea has also been the same for over 50 years now. A TeaBag was also introduced to the world about 40 years back. The last innovation in which Instant-Tea offered was 'Powdered Instant Tea' which was made by a process called Spray Drying," says Kartic in an exclusive conversation with The StartupLab.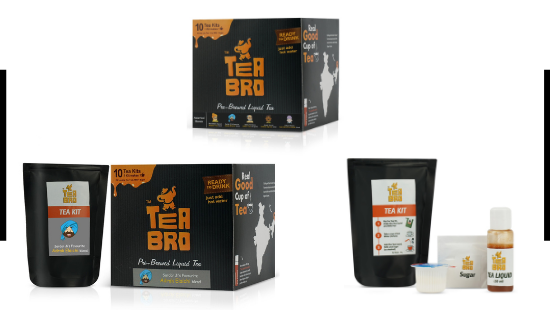 This made Kartic think about ways by which he could offer good quality tea in a Ready To Drink manner. Then after months of R&D, Kartic came up with Tea Bro and the concept of 'Pre-Brewed Tea Liquid Decoction.'
"Tea Bro is a patent-pending 'Ready to Drink' Tea which is pre-brewed to perfection from the finest Assam Teas with love and care. Just add Tea Bro to a cup of hot water and Done! Your cup of tea is ready in 5 sec," adds Kartic.
Growth And Future
Since its launch, the startup has been a tremendous response from Tea connoisseurs and Tea blenders and tasters about its high quality and Tea innovation.
Tea Bro is following an omnichannel sales strategy with 50 offline touchpoints in NCR and presence across most of the eCommerce marketplaces, including Amazon, Flipkart, Grofers, and Big Basket. The startup is also selling through its own website.
Kartic concluded the conversation by saying,
"With rapid urbanisation, people spend less time doing the daily chores themselves. That is why I believe that Instant Tea will be a very common phenomenon in most of the household. If you see markets like the USA, which is a fairly urbanised market, there is more demand for instant offerings (tea, coffee, soda) than the actual ones. In the next five years, the Instant Tea market should at least make up about 15% to 20% of the Tea consumption in India."
For more stories of startups, click Startup Stories.
Follow us and connect with us on Instagram, Facebook, Twitter and LinkedIn.