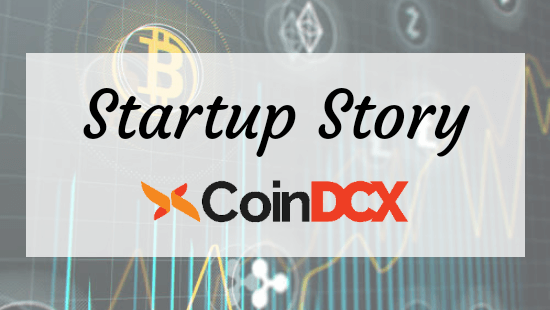 Startup Story: CoinDCX | India's Largest Cryptocurrency Exchange
The Indian Startup Ecosystem is a diverse ecosystem with startups pertaining to distinct sectors. Though diverse, there are only a few Indian startups that belong to the cryptocurrency sector.
Before RBI's ban on cryptocurrency in 2017, India's crypto market was worth $12.9 billion. But, now when the ban has been lifted, startups in the cryptocurrency market are getting a second bite at the cherry.
Today's startup story is about such a startup that claims itself as the 'India's Largest Cryptocurrency Exchange.'
The story is about CoinDCX.
Startup Story: CoinDCX | India's Largest Cryptocurrency Exchange
CoinDCX Founders and Funding
CoinDCX is a Mumbai based Cryptocurrency Exchange, founded by IIT-Bombay graduates Sumit Gupta and Neeraj Khandelwal in 2017.
The startup has received a total funding of $5.5 Million.
How CoinDCX Started?
The story of CoinDCX started in 2014 when Sumit Gupta came to know about the distributed ledger technology. One thing led to another and during this time, the idea of bringing together various decentralised marketplaces and cryptocurrencies got to his mind.
Sumit Gupta then contacted his friend Neeraj Khandelwal, and they both started exploring the blockchain technology.
After doing market research, both realised that blockchain traders did not have a single platform to trade from.
This realisation combined with the potential of the cryptocurrency market encouraged both these IIT-Bombay graduates to start their own cryptocurrency company CoinDCX in March 2018.
How Is CoinDCX Different From Other Crypto Startups?
As per the founders, CoinDCX has developed single-point access to trade all the cryptocurrency instruments available in 500+ markets.
With trading products offering services like spot trading, futures trading, the company claims to have built a highly scalable trade machine engine, which can handle up to one million transactions per second.
Products offered by CoinDCX
DCXtrade– A spot trading product providing access to 500+ markets.
DCXfutures– A futures trading product with up to 15X leverage.
DCXinsta– Fiat to a cryptocurrency product with which users can buy crypto with INR.
DCXmargin– A margin trading product, provides 6x leverage on 200+ coins.
DCXlend– A lending product, offering an easy and secure way to earn interest on cryptocurrencies.
Talking about the CoinDCX platform, Sumit Gupta in an interview said,
"We have brought all the crypto-trading products under a single roof. The products are designed for all types of traders keeping their experience, risk tolerance, and frequency of trading in consideration."
Present Situation of CoinDCX
Claiming to be India's Largest Cryptocurrency Exchange, this Indian cryptocurrency startup has 27000+ monthly active traders on its platform.
The startup offers 250+ cryptos and has a daily trading volume of $10Million+.
Recently, CoinDCX announced on its company blog that it has partnered with OKEx to become 1st Indian crypto exchange to launch futures in India.
Future Plans Of CoinDCX
The startup is working hard to promote the adoption of crypto in India. For this, the startup has invested US$ 1.3 Million in a #TryCrypto initiative, which aims to establish an Indian crypto community of 50 Million people.
In its last funding round, Sumit Gupta, CEO and Co-founder of CoinDCX, said,
"As the country's largest exchange, we are in a position to drive national crypto adoption forward responsibly….With a slew of exciting projects in the pipeline, the closure of our Series A is the first step in a new chapter in the CoinDCX story as we continue to drive the mass adoption of crypto assets in India."