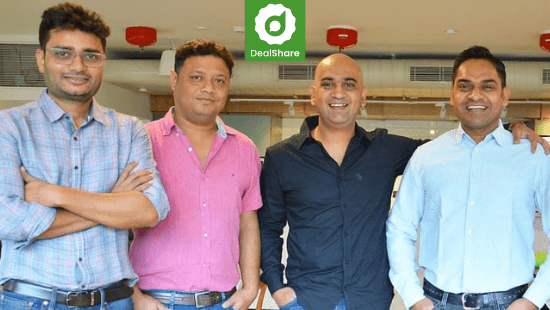 Social E-Commerce Startup 'DealShare' Raises $21 Million In Series C Funding
DealShare, a Jaipur and Bengaluru-based startup, has raised $21 million in Series C funding led by WestBridge Capital.
Alpha Wave Incubation, Z3Partners, and existing investors Matrix Partners India and Omidyar Network India participated in this round of funding.
The funding round also saw participation from several independent investors.
As per the startup, it will use the raised money for the next phase of its growth. The growth phase involves expanding to newer geographies, penetrating deeper into current markets, scaling operations, expanding local sourcing networks, and strengthening its technology platform across business verticals.
Founded by Vineet Rao, Sankar Bora, Rajat Shikhar and Sourjyendu Medda, DealShare is a fast-growing social e-commerce startup, an online buying platform for multi-category consumer products, focused on the new 'WhatsApp first'​ India.
Talking about funding, Sourjyendu Medda, Founder and Chief Business Officer, DealShare said,
"With this round of investment, we will augment our brand presence across existing and new markets. Over the next one year, we are targeting to increase our footprint to 100 cities and towns across five states. Along with this, we will increase our customer base to one crore. This investment will take us to an annual GMV of Rs 2,500 crore."
The startup has around 1,000 manufacturers and suppliers, of which 70% are regional or local. DealShare delivers about 25,000 orders daily, with an average of 1,000 stock-keeping units (SKU) across categories.
Need legal assistance for your startup? Just contact us.
Follow us and connect with us on Instagram, Facebook, and LinkedIn.