Pune-Based Startup 'BatteryPool' Is Eliminating Operational Challenges In Running EVs By Offering SaaS Platform To Manage EV Fleets
As the world is moving towards clean energy sources, the Electric Vehicle (EV) segment has gathered momentum in recent years.
The segment has also seen a rising trend in India with the number of startups, either manufacturing or using EVs, has increased.
Electric Vehicles (EVs) in India could represent an $8 billion opportunity by 2025, says a report by Avendus Capital.
In India, Adoption of EVs in the consumer segment is slow, but the B2B segment presents a different story.
Companies belonging to the ride-sharing segment, food delivery, and eCommerce sectors have made big plans to own and lease large fleets of electric vehicles in the coming days.
On paper, the future looks promising but on ground level adoption of EVs seems to be complex.
As EV operators have to plan its routes, battery maintenance, and return on investment on the infrastructure, any company with EVs can face issues in fleet management.
So, to solve the issues, a Pune-based startup BatteryPool has come up with its EV Fleet Management system allowing fleet operators to deploy and manage EVs from a single dashboard.
Considering the money every industry spends on technology (at least 3% of the revenues), the EV SaaS industry in India could be a $200 million opportunity.
Startup Story: BatteryPool | SaaS Platform To Manage EV Fleets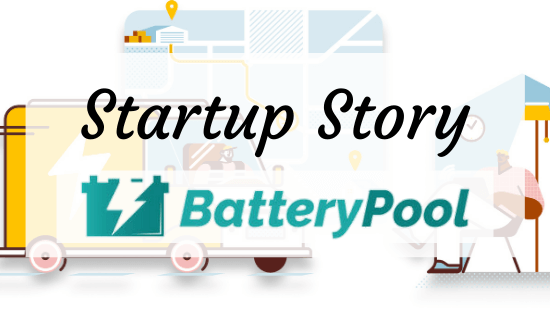 BatteryPool Founder
Started by Ashwin Shankar in 2018, Batterypool is a Pune-based startup that provides technology-driven SaaS and hardware solutions crafted to meet the needs of EV fleet operators.
The startup's tech stack provides real-time, actionable insights to fleet operators, helping them eliminate operational challenges in running EVs and improve utilisation of the vehicles.
How BatteryPool Started?
BatteryPool started with a vision of fostering mass adoption of electric mobility in India.
After graduating in Electrical Engineering from Stanford University in 2018, Ashwin moved back to India.
He then spent a year working at a technology policy think tank, exploring technology and innovation in the automotive industry.
At that time, the government was talking about going all-electric by 2030. So, Ashwin decided to start up in this industry, as the sector aligned with Ashwin's background and skillsets.
To understand the industry and challenges faced by fleet operators using EVs, Ashwin in 2018 bought a fleet of 20 EVs and two-wheelers and deployed them with small businesses and delivery boys in Pune.
Ashwin found issues around battery charging and maintenance that can lead to downtime of these vehicles.
So, Ashwin with some team members team built tech internally to address these operational issues and started BatteryPool.
USP Of BatteryPool
BatteryPool offers SaaS and hardware solutions that allow fleet operators to deploy and manage electric vehicles.
The solutions provided by the startup comprises of battery-swapping station hardware, vehicle telematics unit, and a modular SaaS platform.
Enabling EV fleet operators to manage EVs, BatteryPool provides real-time, actionable insights into the electric vehicle charging, maintenance, and operations.
Fleet operators can also set up battery swapping stations at their locations, enabling riders to exchange battery packs without having to wait for a recharge.
Present Situation Of BatteryPool
Till now, the startup has invested Rs 20 lakh and raised Rs 25 lakh via grants and an angel round along with the investment from 100X.VC.
Also, BatteryPool has a total of 100 plus EV fleet across five fleet operators that are using the platform. The startup hopes to double the number of customers in 2021.
Future Plans Of BatteryPool
BatteryPool aims to help operators deploy over 2000 EVs on the BatteryPool platform and intends on entering markets in Europe and America.
The startup also plans to build partnerships with 5+ OEMs (Original Equipment Manufacturer) for the integration of the platform with their vehicles over the next 18 months.
Talking about plans, Ashwin says,
"We are looking to partner with vehicle OEMs so that we can approach fleets together. We have realised that the first point of contact when fleets transition to EVs happen to be the OEMs. So, we believe that such partnerships can help us get to our end customer much faster."
Read: Started By A Mompreneur, Hyderabad-Based Startup 'Just Peachy' Offers Fashion Jewellery With A Global Appeal