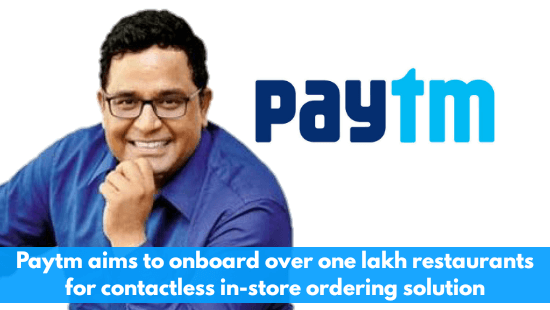 Paytm Plans For Post Lockdown, Coming Up With 'Contactless In-Store Ordering'
Startup giants in the India startup ecosystem are preparing for the post lockdown situation as Paytm has decided to enter into the restaurant's food ordering business space.
As per Paytm, as soon as the lockdown ends, the company will launch 'contactless in-store ordering' for restaurants and eateries. Paytm aims to partner with over one lakh restaurants for this service. 
To start with, Paytm is going with the top 30 cities, then it will roll out the service for other cities as well.
Talking about contactless-in-store ordering, Paytm said it would install QR codes at restaurants. The customers just have to scan the QR codes to get a digital menu on a smartphone and place orders.
Nikhil Saigal, Paytm Vice-President, talked about contactless in-store ordering and said,
"We understand that after the lockdown, our country will require a safe dining and food ordering experience. Therefore, we have built this technology to help restaurants and their customers to follow social distancing norms. With our 'contactless in-store ordering', they will avoid touching menu cards and cash for a safer experience,"
Same are the plans for Zomato, as the Online food aggregator and delivery platform said it is working towards adding new features on its app.
As per Zomato, the new features will allow diners to use online menus, place orders, and make payments when they visit restaurants.