Noida-Based Video Sharing Startup 'Fun2' Is Helping Content Creators To Showcase And Monetise Their Craft
Internet penetration in India is on the rise.
In 2015, only 19% (243 million users) of the Indian population was actively using the internet. But at the start of 2020, internet penetration in India reached 50%.
Presently, India has over 600 million internet users and is estimated to reach 1 billion users by 2025.
With more and more people using the smartphone, there is a huge opportunity in the digital space to connect with Indian audiences.
The ban on Chinese short video sharing platform TikTok has opened doors for many Indian short video sharing apps.
Today's startup story is about a platform that allows content creators to show their talent in a short-video format and encourages them to become influencers.
Startup Story: Fun2 | Short Video Sharing App For Indian Creators and Viewers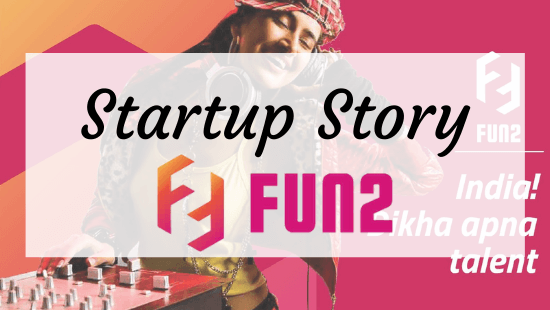 Fun2 Founder
Started by three friends, Sidhartha Rao, Rahul Bhattacharya, and Manoj Bhanu, in May 2020, Fun2 is a Noida-based 'content-first' and a 'creator-driven' platform that encourages people and communities to come together and showcase their diversity, trends, and creativity across many categories.
The platform allows audiences to view, share, and promote their favourite content creators as they consume entertainment on the go.
How Fun2 Started?
Fun2 first started with comedy as a genre, but soon the founders realised restricting the platform to a single category could be a limiting factor.
So, they decided to pivot to a user-generated model.
Reminiscing the situation, Rahul says,
"It was a thought-provoking coming together of friends and professionals towards a collective vision of building a world-class product. The thought about building communities around exceptional talent and craft propelled us to start Fun2." 
The bootstrapped startup earns its revenue from sponsorships, advertisements, and in-app purchases and is available on both Google Play Store and Apple Store.
Rahul says,
"As India quickly moves towards a digital ad-based economy, the revenue will depend on the number of people viewing the videos, and the number of ads being served while watching the videos. We also need to constantly check our ad inventory as it shouldn't be at the cost of compromising on user experiences." 
USP Of Fun2
The 'content-first' and a 'creator-driven' platform, Fun2, is helping content creators show their talent in a short-video format, thereby encouraging content creators to become influencers and build communities around their craft.
The platform is accessible to anyone and everyone who wishes to showcase their talent or support their favourite creators.
Present Situation Of Fun2
Presently, Fun2 has over 700 influencers, more than 1,05,465 videos on its platform, and over one lakh app downloads.
The startup also claims to have already onboarded close to 1,000 creators and is finalizing its strategic partnerships with content creators.
Fun2 currently works with three agencies that support its influencer programme. Additionally, it operates an internal core team of 37 employees supporting its technology, marketing, and operations verticals.
Future Plans Of Fun2
Fun2 plans to launch a talent management programme soon to help new content creators become popular influencers.
Working to build a strong foundation in India first, the startup has plans to foray into international markets, starting with the Asia-Pacific region.
Read: Delhi-Based Startup 'eee-Taxi' Is Helping Corporates Save Time By Providing End-To-End E-Mobility Solutions
Want to publish your startup's story? Contact us.