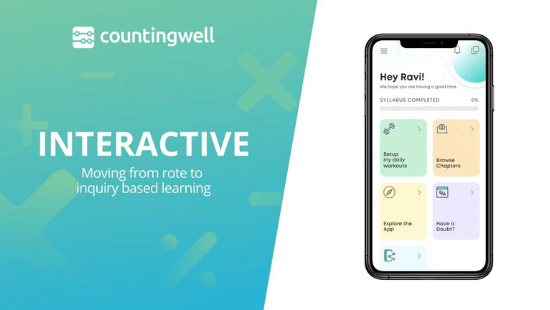 Maths Learning App 'Countingwell' Raises $1 Million In Pre-Series A Funding
Edtech startup Illuminati Learning Solutions Pvt. Ltd., and the parent company of maths learning app Countingwell, has raised a Pre-Series A funding round of $1 million (₹7.3 Crore) from Delhi Private School (UAE), Interstar, and other angel investors.
As per the startup, it plans to use the funds for marketing and new market expansion as well as enhancing the platform's technology content.
Started in 2018, Illuminati Learning Solutions had recently launched Countingwell app. Made as per CBSE and NCERT curriculum, Countingwell app is a dedicated maths learning app for students of middle school.
Talking about the app, Nirmal Shah (Co-founder of Countingwell) said,
"Countingwell is borne out of two years of research and development of a unique pedagogy, which focuses on inculcating an analytical thought process and developing maths problem-solving skills in children."
Available on both iOS and Android devices, Countingwell app also features a unique learning model that provides a 20-minute 'maths workouts' daily, designed to minimise screen-time.
Need legal assistance for your startup? Just contact us.
Follow us and connect with us on Instagram, Facebook, and LinkedIn.