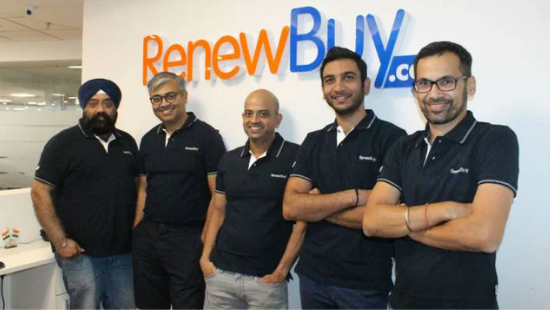 Insurtech Startup RenewBuy Closes Series C Round With Additional $10M Funding
RenewBuy, a Gurugram-based insurtech startup, has raised an additional $10 million in its Series C round from India-focused private equity platform Evolvence Capital (Evolvence India Fund).
As per the startup, RenewBuy will use the funds to double down on technology to provide a greater digital experience to the consumers through its POSP (point of a salesperson) insurance advisors.
RenewBuy also wants to use AI across the consumer's insurance lifecycle – from buying insurance to being serviced to claim settlements. Additionally, the startup plans to expand into more countries beyond India, where similar insurance gaps exist in the ecosystem.
[Read:
Factors Driving The Growth Of Fintech Industry In India
]
RenewBuy | Insurance Specialist 
RenewBuy is a Gurugram-based insurtech startup offering end-to-end digital services, with instant policy issuance and claim settlement, from a choice of 35+ Insurance companies.
The insurtech startup aims to achieve a significant share of the digital insurance market in the coming few years. Additionally, expecting massive growth in its revenue over the next five years, RenewBuy plans to scale up technology in business and expand to national and international markets.
Speaking on the development, Balachander Sekhar, CEO, RenewBuy, said,
"We are happy to announce the partnership with Evolvence, which is known for its investments across global markets, and especially Middle East markets. This is a validation of the work RenewBuy has been doing in the insurance category over the years and the huge opportunity that lies ahead of us."
With this funding, the Gurugram-based insurtech startup has closed its Series C round at $55 million.
In recent times, there has been increased traction in the insurtech space in India, and investors are investing heavily in the segment. According to a report by S&P Global, India accounted for 35% of the $3.66 billion in insurtech-focused venture capital invested in the APAC region. And, as the insurance segment in life, health, and property are underpenetrated, the Insurtech ecosystem in India is bound to accelerate in the coming years.
Need legal assistance for your startup? Just contact us.
Follow us and connect with us on Instagram, Facebook, Twitter and LinkedIn.