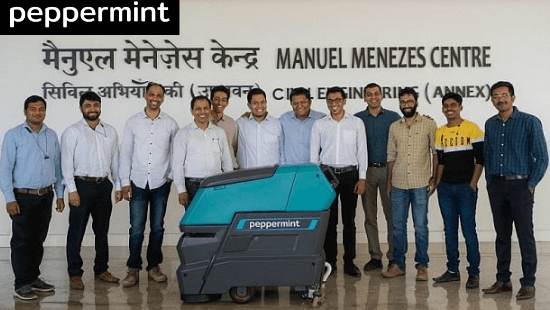 Industrial Robotics Startup 'Peppermint' Raises Seed Funding
Industrial robotics startup Peppermint has raised an undisclosed amount in a seed funding round from Venture Catalysts and Naveen Kshatriya (Former Head of Castrol Asia and ANZ).
As per the startup, it plans to use the funds to scale up its manufacturing efforts. Peppermint also plans to strengthen its after-sales support infrastructure and expand into new markets.
Founded by Runal Dahiwade, Nityanand Prabhutendolkar and Miraj C. Vora, Peppermint makes robots to automate floor cleaning.
Peppermint is working with a vision to design and build the most effective and efficient deep cleaning robots for commercial spaces.
The startup claims to have built India's first industrial floor cleaning robot which has the ability to kill the coronavirus through scrubbing, chemicals, and UVC.
To stay updated with the latest startup news, follow us and connect with us on Instagram, Facebook, Linkedin.