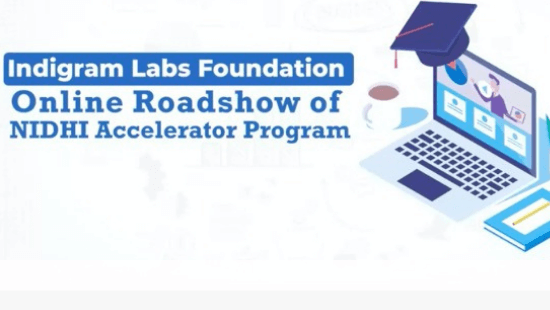 Indigram Labs Foundation Successfully Launches NIDHI Accelerator Program Theme 'Healthcare and Sanitation In COVID'
Indigram Labs Foundation has successfully launched NIDHI Accelerator Program Theme: Considering the COVID situation.
Launched on 13th July 2020, NIDHI Accelerator Program started with the theme – Healthcare and Sanitation In COVID, under the presence of Chief Guest Dr Naveen Vasishtha (Head NIDHI Accelerator Program, DST, GoI).
Dr. Naveen Vasishtha , Head NIDHI Accelerator Program, inaugurated the session wherein the online application had been started following with the online roadshow/ Webinars.
National Initiative for Developing and Harnessing Innovations (NIDHI) is an umbrella programme conceived and developed by the Innovation & Entrepreneurship division, Department of Science & Technology, Government of India, for nurturing ideas and innovations (knowledge-based and technology-driven) into successful startups.
1st Online Roadshow -I of NIDHI Accelerator (Health and Sanitation ) in COVID 19 got started with the speaker – Mr Deep Bajaj, Founder of Sirona Hygiene( Pee Buddy ) on Innovation & Scale in the world of Sanitation on 28th July 2020.
The second Panel Discussion on 'Opportunities to the Healthcare & Sanitation startup in the current situation' was held on 31st July.
Our panelists for the session were:
Dr Pankaj Parashar, Founder Director (Cutting Edge Medical Devices Pvt. Ltd.)
Dr Saarthak Bakshi, CEO, Co-Founder International Fertility Centre
Mr Chinmoy Mishra, Founder of AllizHealth (now Vivant.me)
The session was moderated by Dr Saket Chattopadhyay, Manager, Indigram Labs foundation.
Online Roadshow -III of NIDHI Accelerator (Health and Sanitation ) in COVID 19
With Speaker – M.G. Sathyendra, Ex Director BIS, Ex Head CSA, Intertek South & West, Assessor NABL, Technical expert NABCB was held on 7th August 2020.
After successful Conclusion of the Online Webinars / Online roadshows and extension of the online application, NIDHI Accelerator received a total of 102 Applications from which top 30 were selected for the first round of video call, and interview over Zoom.
Top 12 startups out of these 30, had been invited for the Boot camp Session started from 8th September 2020 which was later taken care by Knowledge Partner TiE Delhi NCR.
After successful Bootcamp, one to one Mentoring will be given to each startup, followed by Demo Day Along with Renowned Investors in the Industry.
For more updates regarding the NIDHI Accelerator, stay connected to us.