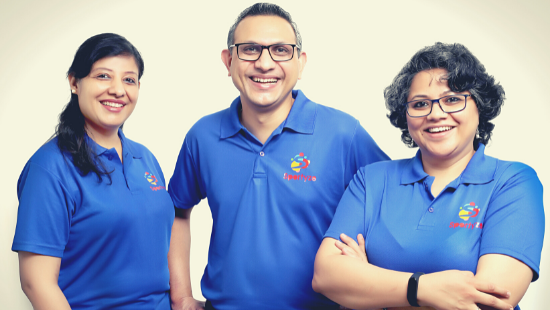 India's First & Fastest Growing Kids Gym Chain Is Now Available Digitally
There is an old saying that healthier bodies have healthy minds. But in this digital age, people, especially kids, are hooked on to some form of the digital medium and stay away from physical activities.
We all know, lack of exercise or physical activity can impact the fitness levels of our little ones and harm them physically, mentally and emotionally. The lifestyle change was already impacting the lives of kids, and now with the COVID-19 outbreak, the impact has been accelerated. Because of the pandemic, kids have been sitting around a lot more with a massive increase in screen time.
More often, this use of digital devices is impulsive, compulsive, unregulated or addictive and leads to negative consequences.
But what's the solution to this?
This question was the trigger point that led Ankur Chaudhary, Anubhuti Singh, and Richa Mamgain Pant to create a space designed for children, offering children programs based on SPORTS.
 Sportyze | The CLICK And BRICK Model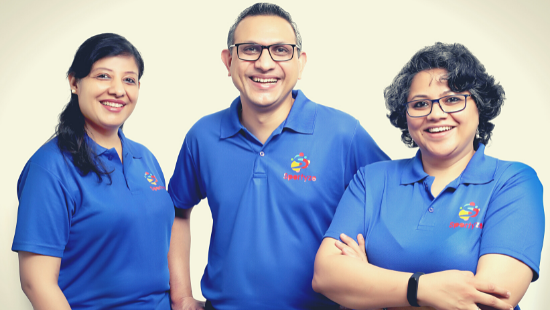 Sportyze is a kids engagement & lifestyle company working on the fundamental developmental framework integrating physical and cognitive activities with a CLICK and BRICK model.
"We believe- healthier kids have happier parents. Our unique online and offline offerings have been crafted carefully and provide age-appropriate interventions from Toddlers to Teenagers. Research has proven that early on exposure to physical play paves the way for a confident and active child. Children active in play consistently perform better in academics too. Sportyze is committed to helping each child reach its TRUE potential," says Richa in an exclusive conversation with The StartupLab.
Operated by Acenati Sportyze India Pvt Ltd, Sportyze offers an interesting blend of state-of-the-art technology, contemporary gymnastics and creative fitness ideologies to introduce a healthy Mind-Body-Soul generation through several physical and recreational activities.
Beginning Of The Entrepreneurial Journey
"Like every entrepreneur has a trigger point that sets them on a quest to look out for the answer, the same happened to us. Our trigger point was our CHILDREN. They were either unwell or hooked on to digital media. When we looked around, we found similar stories in our neighbourhood, amongst our relatives," Ankur says.
It was then that the trio decided to change the situation and looked around for evening programs that could meaningfully engage their children. It went all in vain, as they didn't find any dedicated centre with safety, security and hygienic conditions. They found out that there was no framework-based approach that could give insight into the kids' progress.
This led Ankur, Anubhuti and Richa to start Sportyze, a space designed for children making fitness- fun, engaging and self-disciplined.
Speaking about the platform, Ankur says,
"Together with Sports experts and our corporate experience, we designed a framework and milestones which could indicate the progress every child makes in their fitness journey."
Offering A Progressive Framework With AI-based Assessments
Aiming to help grow kids into well-rounded, well-adjusted super kids, Sportyze offers a progressive framework, AI-based assessments, and data monitoring. Additionally, with a physical and digital presence, Sportyze caters to kids belonging to the age group of 18 months to 15 years.
Explaining what sets Sportyze apart from its competitors, Ankur says,
"While the established players, outside India, focus on play-based learning and till 10 yrs of age group, programs at Sportyze cater to 18 months till 15 years. We have a separate framework for fundamental and skill-based programs. Our proven track of coaching trains children on competitive gymnastics, unlike our competitors, which focus on fun-based engagement."
Sportyze, with its AI-based assessments and Sportyze Talent reports, helps kids and parents monitor their fitness parameters and gives meaningful insights to coaches.
Furthermore, Sportyze pushes kids to achieve milestones that are skill-based and not time-bound. Each child gets badges and certificates upon completion that motivates them to accomplish the next milestone with focus.
Present Situation and Future Plans Of Sportyze
Sportyze has served over 5000 clients and has generated over Rs 3 cr in revenue. Till now, Sportyze has offered 2000+ digital sessions and 50000+ hours of coaching. The startup is working with a team of 15 members.
Sportyze has aggressive expansion plans, and the startup plans to have a Pan India presence with 64 centres. The startup also aims to cater to 1,50,000 kids through its digital footprints.
For more stories of startups, click Startup Stories.
Follow us and connect with us on Instagram, Facebook, Twitter and LinkedIn.