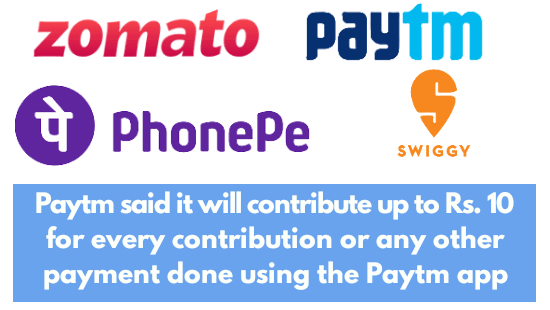 Indian Startups Are Joining Hands With Government To Fight COVID-19
Amid the lockdown done to prevent COVID-19 outbreak, many Indian startups are reaching out to multiple state governments, offering delivery of essential items.
These startups include online food delivery companies Zomato, Swiggy, and Rebel Foods.
Not only just the delivery but some startups are also donating free meals to gig workers and migrants.
Paytm also said that it plans to donate Rs 500 crore to the PM-CARES Fund. Also, the company will contribute up to Rs 10 for every contribution or any other payment done using the Paytm app.
PhonePe also launched a donation drive and said it will contribute Rs. 10 for every donation done from its platform.
Founder and CEO OF PhonePe, Sameer Nigam said,
"We are asking every Indian to unite together and donate, even if it's just Re 1, to the PM CARES Fund. Our mission is to get 10 crore people to donate to this cause and create a world record for the highest ever number of donors for a cause in history."