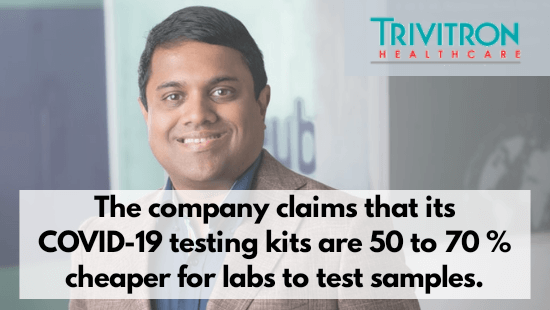 Indian Medical Tech Company Trivitron Healthcare develops COVID-19 PCR test kit for faster testing
The whole world is trying its best to fight the Coronavirus pandemic, And many organisations and startups are putting in efforts to develop something that will help people and the government to fight against the virus.
Under this present situation, to increase the speed of sample checking, a Chennai-based medical technology company Trivitron Healthcare is developing a COVID-19 PCR test kit.
The test kit can test hundreds of samples in a day.
But to enter the market, the company first has to submit the sample and needs the approval of  National Institute of Virology (NIV) in Pune.
As per reports, the central government has ordered COVID-19  testing kits from Germany for now. 
Dr GSK Velu, Founder, Chairman and MD of Trivitron, says that the kits made by Trivitron would be half the price as compared to imported testing kits.
Also, when compared to other present COVID-19 testing kits, the company claimed that its kits are 50 to 70 % cheaper for labs to test samples.