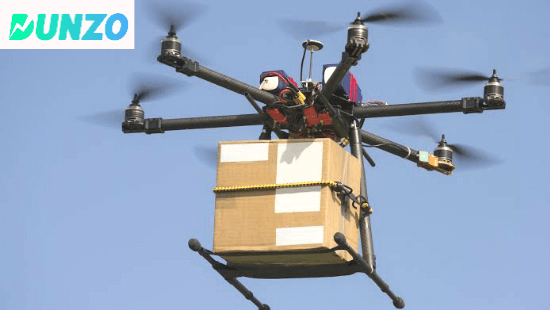 Hyperlocal Delivery Platform Dunzo May Conduct Its First Drone Delivery Trials This Month
For long, many companies have been trying to get their products delivered through drones.
Coming closer to turn this dream into reality, the hyperlocal delivery platform Dunzo may conduct its first drone delivery trials this month.
Dunzo will be conducting its first drone delivery trials with the help of management consulting firm Alternative Global India (AGI) and the trials would include delivery of healthcare products, food, and other packages.
Ankit Kumar, the managing partner of the AGI, has confirmed that it has been actively working with Dunzo Digital as a consulting partner on this project.
And to make the drone inclusion in their current system in a proper way, they have also set up Dunzo Air Consortium with eight members having expertise in various fields such as unmanned traffic management (UTM), 3D mapping and safety, unmanned aerial vehicle (UAV) system, long term evolution (LTE), drone operations, etc.
The team has also submitted all necessary documentation to the Director-General of Civil Aviation (DGCA) and are waiting for flight clearance.
Talking about the trials which are likely to begin in July or August this year, Ankit Kumar said,

"We expect the trials to deliver immense data points which shall be utilized by Dunzo to create a proof of concept and safety cases to be further shared with DGCA and also to develop drone delivery models in the semi-urban and urban environments."
Last year, in May 2019, almost 27 companies had applied to run drone tests, under BVLOS drone experiments to the government.
Only seven among those 27 were shortlisted. The shortlisted companies include Dunzo, Zomato, Swiggy, Throttle Aerospace, Zipline, Redwing, and Honeywell.
Follow us and connect with us on Instagram, Facebook, and LinkedIn.