How NG Is Revolutionizing The Headphone Industry With Its EarSafe Open Ear Headphones
With more individuals seeking to immerse themselves in their favourite audio content, the demand for high-quality headphones has soared. From music enthusiasts and gamers to professionals seeking a private audio experience, headphones have become an essential accessory for countless individuals.
However, this surge in headphone usage has also raised concerns about potential risks to ear health. Prolonged exposure to loud sounds and the use of traditional in-ear headphones can lead to long-term hearing damage and detachment from one's surroundings, compromising safety and situational awareness.
As today is Music Day, where we celebrate the power of sound and its ability to touch our souls, we bring you the story of NG India, a D2C (Direct-to-Consumer) consumer electronics brand that is revolutionizing the headphone industry with its NG EarSafe Open Ear Headphones that combine immersive audio with a groundbreaking approach to ear health safety.
NG EarSafe Open Ear Headphones come with an open ear design to offer an exceptional audio experience while allowing ambient noise to pass through naturally. This unique feature enables users to enjoy their favourite music or audio content without compromising their situational awareness.
Founding Team And The Brand
Founded by Meet Shah and Raj Shah, NG India is a Next Gen D2C consumer electronics brand that is revolutionizing the headphone industry with NG EarSafe Open Ear Headphones.
EarSafe is a range of open-ear headphones designed to transform the audio experience. It comes with titanium alloy, 13mm speaker drivers, a full day of battery life and 6D panoramic bass. Also, EarSafe Comm, a headphone with a noise-cancelling boom mic, brings in a new way of communication.
The startup plans to launch EarSafe Buds (Open ear Buds) & EarSafe Swim (Waterproof open-ear headphones designed especially for swimmers).
"A lot of road accidents, whether someone is jogging, cycling or riding a bike, can be avoided by just being aware of the surrounding. Unlike traditional headphones, EarSafe's innovative design allows sound to be transmitted through the earcups, granting you the freedom to enjoy music without compromising your awareness of the environment and keeping your ears open and safe," says Meet Shah in an exclusive conversation with The StartupLab.
NG India was among the top 10 finalists at the Retail Association of India (RAI) Retail Startup Awards 2022.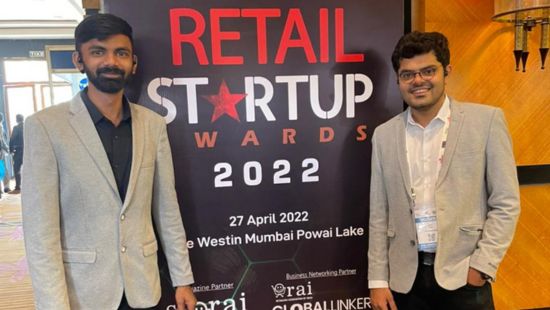 Inception Of NG India | NG EarSafe Open Ear Headphones
Meet and Raj were born into a Gujarati family that had been involved in distributing consumer durables for many years in the Saurashtra Kutch region of Gujarat.
Growing up, they observed firsthand the changing needs and desires of both customers and retailers in their area. Drawing upon their fathers' 25 years of experience in the industry, Raj dedicated a year after completing his MBA to thoroughly understand the intricate workings of the business. Meanwhile, Meet, who had caught the entrepreneurial bug in eighth grade, grew tired of his corporate job within three months of completing his MBA.
In 2019, the duo, under the name NG, made a striking entry into the market with their innovative range of EyeSafe TVs that seamlessly integrated advanced technology with captivating visuals, all while prioritizing eye safety.
The brand swiftly gained popularity both offline and through its online platform. However, Meet and Raj's vision extended far beyond just televisions.
With an unwavering commitment to revolutionizing personal audio experiences and promoting safety, NG expanded its product lineup. They introduced NG Earsafe Open-Ear Headphones, another groundbreaking solution that combined immersive audio with ear health safety.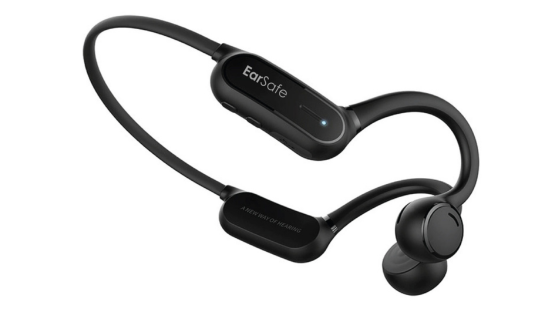 Revenue Growth And Future
Since its inception, NG India claims to have served nearly 12,000 customers. The D2C consumer electronics brand claims to have closed last financial year with Rs 4 Cr in revenues. It is on track to touch Rs 10 Cr this year.
Working with aggressive expansion plans, NG India has a lot of exciting products coming in within its EarSafe range, including the EarSafe Swim designed for swimmers, EarSafe Buds, the Open Ear Buds and EarSafe Pro.
Bootstrapped till now, the startup also plans to enter the UK market in the next financial year. In addition to its EarSafe range, NG India is also looking into going online with its EyeSafe TV range (ranging from 32 inch-55 inch), which will be available only from their website directly.
Concluding the conversation, Meet Shah says,
"Built from the experience of 25 years of the consumer electronics industry and started by the next generation, NG India is spearheading a revolution in audio-visual experiences and reimaging the possibilities of consumer electronics space. We will continue to push the boundaries of innovation and create products that bring the perfect fusion of cutting-edge technology, captivating visual brilliance, and the highest standard of audio excellence."
For more stories of startups, click Startup Stories. Follow us and connect with us on Instagram, Facebook, Twitter, and LinkedIn.
Note: If you are a budding entrepreneur and require assistance in new company registration or other startup related legal services, contact us.