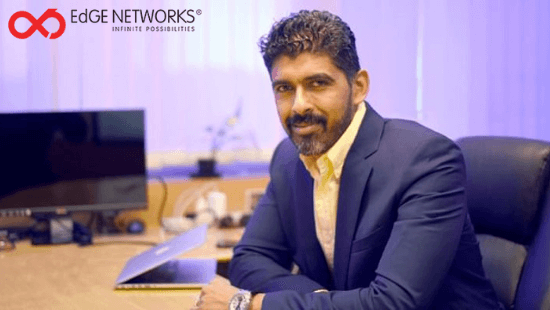 How 'EdGE Networks' Is Leveraging AI And Helping Companies Take The Right Talent Acquisition Decision
The modern business world is very competitive. And to stay on top of their game, HR professionals need to make insightful business decisions.
But as companies begin to scale, managing talent and maintaining a healthy office culture gets challenging even for an experienced HR team.
So to solve this global HR issue, Arjun Pratap launched EdGE Networks in 2012. EdGE Networks is an integrated platform that covers talent transformation, workforce optimization, and talent acquisition with a layer of actionable analytics and insights.
 In 2019, around $116 million was invested in Indian HR Tech startups.

And as per a report, the HR Tech industry is expected to reach $34 billion by the year 2021. 
Read: HR Tech Industry In India
Startup Story: EdGE Networks | Talent Decision Platform Powered By Artificial Intelligence
EdGE Networks Founder
Started by Arjun Pratap in 2012, EdGE Networks uses artificial intelligence and data science to solve the toughest talent acquisition and workforce optimization challenges faced by organizations.
The startup is a product innovation partner with National Skill Development Corporation (NSDC) of India, and it continuously strives to support the development of skills for various industries and channel the right people into the right job.
How EdGE Networks Started?
In 2008, Arjun worked for an online education platform that sold SAP IT courses to engineering colleges. That platform would get students to buy its courses for a reduced price. But there was no job guarantee for these students.
Arjun adds,
"I tried to solve this problem in my head and decided to connect these students to employers based on their aspirations and skillset through TMEx (Talent Management Exchange). However, I failed miserably, because, I think, I lacked the tenacity and perseverance to deal with the education system back then."  
And during that stressful period, a friend of Arjun's and a fellow entrepreneur advised him to make a simple product that would solve a global problem.
Arjun says,
"Reading a job description, reading a resume to match a job requirement is a global issue. And, that's when we created EdGE."
EdGE Networks provides employers, employees and job seekers real value – better allocation, increased productivity, reduced attrition, thereby impacting the bottom line.
USP Of EdGE Networks
EdGE Networks is a talent decision platform powered by Artificial Intelligence. The startup aims to simplify decisions in talent management to help organizations build the workforce of the future.
EdGE Networks uses AI and analytics to solve the toughest talent acquisition challenges. The platform helps to identify the jobs, the upskilling or cross-skilling required, mobilize talent, plan the workforce, and predict the upcoming demands.
The startup has developed an AI-based knowledge graph called Edge Graph. Edge Graph operates like an interconnected bubble and has 34 million profiles and 11 million job descriptions on it.
Talking about the USP of EdGE Networks, Arjun Pratap says EdGE Networks focuses on the IT service and BFSI sectors. All of EdGE Networks data and insights have been gathered for these sectors.
 Arjun says,
"Our data is specific to the relevant industry, and as we have spent years in search of people in the job space, we have honed our data science. Today, employee data has become a hot topic in 2020, and I think we are ready for the upswing."
Present Situation of EdGE Networks
Presently, EdGE Networks follows an annual recurring revenue model. The startup has a team of 95 people and has clients belonging to IT as well as non-IT sector. Its clientele includes HCL, Wipro, and Virtusa in the IT sector, while it caters to HDFC in the banking sector. EdGE Networks also caters to the non-IT sectors with Daimler Benz.
Future Plans of EdGE Networks
To become a global platform, EdGE Networks is looking to expand to North America. As per Arjun, the startup will work on to generate a better employee experience as a talent management platform.
EdGE Networks also plans on building an end-to-end talent management suite for organisations, so that they can make informed talent decisions efficiently and build an intelligent workforce.
The talent management suite will provide organisations with a 360-degree view of their talent supply chain.
Edge Networks works with a vision to build a collaborative ecosystem that provides employers, employees and job seekers real value – better allocation, increased productivity, reduced attrition, thereby impacting the bottom line.
Read: Started With Rs. 2,000, This Hyperlocal Startup 'Homvery' Is Now Valued In Crores
Contact us if you want to publish your startup's story on our website.