How CloudTailor Is Making Fashion Easy For Women With Its Online Personalized Fashion and Tailoring Solutions
Before ready-to-wear apparel got popular in India, Indians preferred to wear customized clothing made by tailors of their choice. With time, the preferences changed, and the country witnessed the rise of ready-to-wear clothing culture.
Now, the trend has reversed, and people, particularly Gen-Z consumers, are demanding better clothing quality and fit in their garments.
Catering to this growing trend, CloudTailor, a fashion-tech startup, is leveraging tech to offer online personalized fashion and tailoring solutions.
CloudTailor | Fashion Made Easy
Founded by Susmitha Lakkakula, along with Rudra Pratap & Mahesh Patel, CloudTailor is a women-focused D2C platform that provides personalized fashion and tailoring solutions.
This online tailor for women's custom clothing enables women to create customized outfits across categories, including Blouse, Lehenga, Salwar Kameez, Shirt, Top, JumpSuit, Skirt, Jacket etc.
"Women across the world face common challenges when it comes to personalized fashion- it is too expensive, not convenient, and the process is a complex one which consumes a lot of time, and the result is most unpleasant. CloudTailor offers an easier solution- a convenient way to get what you want by giving control, flexibility and choice of creating your own outfit in a more efficient way," says Susmitha Lakkakula in an exclusive conversation with The StartupLab.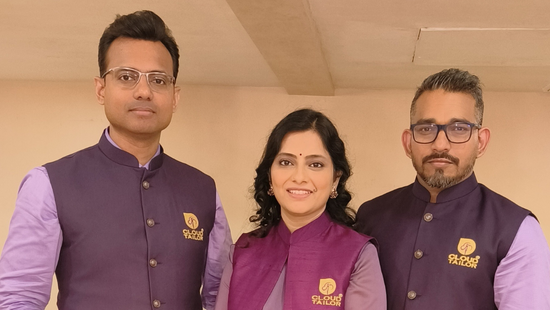 The startup provides a wide range of styling options to women, including online measurement, personal fashion designer, pick up & delivery
In addition to these features, the startup also provides
Live Order Tracking
Lifetime Alterations
Give Your Fabric/Buy from Us
Stitch Anywhere, Alter Anywhere
Inception Of CloudTailor
The idea of CloudTailor was born out of Susmitha's personal fashion & tailoring issues. Soon Susmitha realized she was not the only one affected by the lack of fashion and tailoring options, many women across the globe are experiencing the same issue.
Susmitha started working on the idea of providing personalized fashion and tailoring solutions. The initial phase involved the founder going door to door, taking orders and understanding their issues.
Then the team leveraged technology and introduced the world's first Phygital Personalized Fashion and Tailoring brand for global women. Now, CloudTailor offers personalized tailoring services to women across the globe. The startup lets women upload any design or sketch of the outfit they want, or they can use CloudTailor's 3D configurator to design.
Better Experience With CloudTailor Mobile app
To provide women with a better tailoring experience, CloudTailor has created a mobile app.
Users just have to download CloudTailor's mobile app, take a quick, easy style quiz to help the platform know the outfit requirements and connect with the fashion designer.
Women can then choose the right fabric that suits their style, and the startup will craft the outfit to perfection.
Mission, Growth And Future:
CloudTailor aims to be the one-stop shop for all things fashionable for women.
In this journey, the startup has aggressive expansion plans in sight. CloudTailor aims to open 500+ Exclusive Branded Outlets & 1000 SISs (Store in Store) spread across 75+ cities in India along with an international presence across 20 countries such as the US, UK, Australia, Canada and the Middle Eastern Countries.
Working with over 150+ members, CloudTailor is democratizing fashion and has served over 50,000+ customers. We are growing at 15% – 20% month on month and we intend to grow at a much faster rate as we follow a Phygital model.
To support its expansion plans, the startup has received a commitment of $1 million from India Discovery Fund I, 35 North Ventures and Mergerdomo.
It has also participated in CSOP through Tyke invest, where the round got oversubscribed by 380% with the participation of over 2000 subscribers.
CloudTailor is in early discussion for raising the Pre-series A funding, which will be utilized for the expansion of its branded outlets, increasing brand awareness and tech enhancement.
For more stories of startups, click Startup Stories. Follow us and connect with us on Instagram, Facebook, Twitter, and LinkedIn.
Note: If you are a budding entrepreneur and require assistance in new company registration or other startup related legal services, contact us.