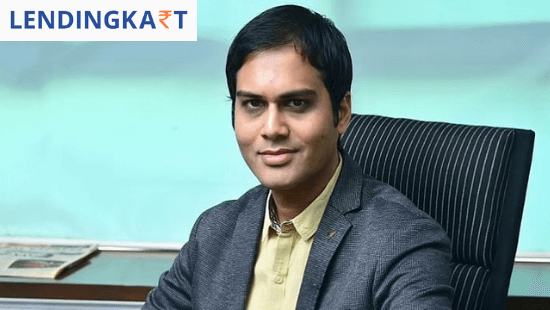 How Ahmedabad-Based Fintech Startup 'Lendingkart' Is Helping SMEs Secure Business Loans Easily
The MSME sector in India is growing at a faster rate, with significant contribution to the GDP.
As per Confederation of Indian Industry (CII), MSMEs contribute 6.11% to the manufacturing GDP, 24.63% to the GDP from service activities, and 33.4% to India's manufacturing output.
Despite so much contribution, the sector is the most underserved and underrepresented.
Because of this, MSMEs that are capital deficient, and with no availability of credit, fail to grow.
Today's startup story is about an Ahmedabad-based fintech startup that provides working capital loans and business loans to SMEs across India. 
Startup Story: Lendingkart | Business Loans For MSMEs
Lendingkart Founder
Started in 2014 by Harshvardhan Lunia and Mukul Sachan, Lendingkart is an Ahmedabad-based non-deposit taking NBFC providing working capital loans and business loans to SMEs across India.
Using technology and analytics tools, the fintech startup is working with a mission is to give SMEs the power to focus on their core business rather than looking for financing.
How Lendingkart Started?
It all started in 2014 when Harshvardhan felt a lag in the market.
And after noticing businesses and SMEs around his hometown, majority of them being operated by a younger and more digital generation, Harshvardhan realised few things.
Harsh realised that this younger generation was also looking for newer ways to run their businesses and procure loans. Also, Harsh and friend Mukul Sachan felt that the existing financial models were inadequate.
So, Harsh, along with Mukul, launched Lendingkart, to provide working capital loans to SMEs and MSMEs.
USP Of Lendingkart
Lendingkart provides credit to SMEs and MSMEs that don't have access to credit or in need of capital for growth.
The fintech platform focusses on analysing thousands of data points to assess factors like financial health, comparative market performance, social reliability and compliance, and a distinctive evaluation process.
And to evaluate creditworthiness, the startup leverages technological tools built on big data analytics and machine learning algorithms.
By enabling services like e-Aadhaar and digital signing, Lendingkart has made the lending process easy for the borrower.
Developing a robust tech lending platform, Lendingkart has also launched a SaaS-based co-lending platform called 'Lendingkart 2gthr'.
It is a platform for financial partners who want to maximise their financial products reach related to MSMEs.
Talking about Lendingkart 2gthr, Manish Bhatia, President of Technology, Analytics and Capabilities, says,
"Today, within a year of the offline pilot project, five partners have been onboarded, and all of them have been integrated digitally and seamlessly with real-time information sharing, verification and approval workflow. These partnerships are contributing to approximately 18% of disbursed applications."
Present Situation Of Lendingkart
From 2015 to now, Lendingkart claims to have helped over 90,000 small business across 1300 cities and towns. The startup is growing consistently, and in FY20 alone, Lendingkart had disbursed 53,000 loans, an 83% increase over the last year.
Also, during the pandemic, the startup raised Rs 319 crore equity in Series D funding.
Future Plans Of Lendingkart
Lendingkart is looking to expand its lending base, and further reach out to small and underserved SMEs.
As per Harsh, the startup also plans to strengthen the company's technological and analytical capability.
Talking about SMEs and focus of Lendingkart, Harshvardhan says,
"The pandemic has proven the importance of SMEs and how they actually can help the country's economic growth. Our focus will remain towards helping these companies evolve and grow."
Read: How Ranchi-Based Startup 'SafEarth' Is Accelerating The World's Transition To Renewable Energy