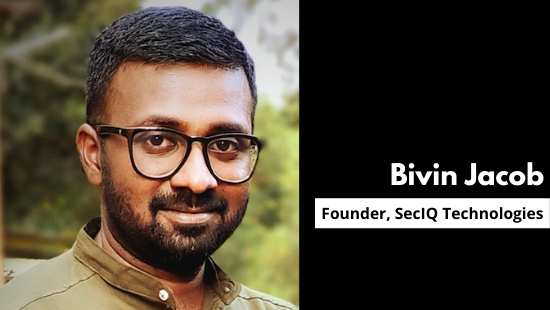 Helping Startups Identify Critical Security Vulnerabilities, Cybersecurity Startup SecIQ Technologies Is Redefining Digital Security Landscape In India
With businesses going digital, cyberattacks have gotten quite frequent, and the need for cybersecurity is more than ever. And as India is becoming a startup hub and every startup needs an online presence, the demand for cyber security experts is rapidly growing.
As per a report by the Data Security Council of India (DSCI), the cybersecurity services and product industry in India generated a revenue of USD 9.85 billion in 2021 and grew at a compound annual growth rate (CAGR) of about 40% in the last two years.
But due to the huge costs that cybersecurity infrastructure implies, startups do not prefer to have an in-house security team early, keeping them open to data theft, and it can be a recipe for disaster.
Helping startups identify critical security vulnerabilities in their products is SecIQ Technologies, a cybersecurity startup offering end-to-end application/product security services, consulting and training.
Founding Team
Founded by Bivin Jacob in 2019, SecIQ Technologies is a pure-play information security consulting firm that offers end-to-end application/product security services, consulting and training.
An ISO certified organization, SecIQ Technologies provides end-to-end product security assessments for complete lifecycle across various technologies. Right from building in security requirements early in the lifecycle to design/ architecture reviews, Security code review, Vulnerability assessment & penetration testing (VAPT), Network architecture reviews, Cloud security review and Red teaming exercise, SecIQ Technologies keeps every vulnerability in check.
SecIQ Technologies | Advancing Cyber Security
Bivin was triggered to start SecIQ Technologies when he and his friends found an obvious security issue in the mobile app of an Indian startup that could potentially impact millions of users. They helped the startup fix the vulnerabilities and secured them from a huge potential data breach.
But that experience made Bivin realize the need for cybersecurity for these growing startups. So, to assist businesses in identifying and remediating vulnerabilities, Bivin started SecIQ Technologies in 2019.
"Due to huge costs, many startups do not prefer to maintain an in-house security team early, nor are they able to invest in tools and processes till they have matured their product. This opens a huge potential for offering security as a service to most of these organizations. SecIQ addresses this gap and offers a great opportunity for startups to work as an extended security team – providing them with best-in-class security service for an affordable cost," says Bivin Jacob in an exclusive conversation with The StartupLab.
USP Of SecIQ Technologies
As per the founder, the core differentiating factor of SecIQ is its in-depth manual approach combined with automation and a home-grown script that enables the startup to exploit vulnerabilities from a hacker standpoint, which traditional scanners will not identify.
Speaking about the USP of the startup, Bivin Jacob says,
"Another differentiating factor is that SecIQ Technologies works in a very flexible fashion with tailor-made services to meet the customers' security requirements. Not only do we find and report security vulnerabilities to our clients, but we also stand as a strong extended security team helping our clients with their end-to-end security requirements like training, consulting, specialized security audits and reviews."
Present And Future Of Sec IQ
The bootstrapped startup is working with a team of 10 highly skilled security professionals dedicated to one cause, i.e. providing its clients with the best cyber security service possible. Some of its clients include the likes of Delhivery, Alert Fusion, Polycab, Bobble, Caliper, Convergence, Falcon Autotech, Trezi, Quinstinct, Peritus, Quickride, Evoque Innovative Lab etc.
There is a 37% increase in cybercrimes in India during this pandemic, and the demand for this cybersecurity domain is growing, says Bivin.
Talking about the future, Bivin adds,
"Hackers seem to be more active since the pandemic and have been keeping us busy as well. We have been on a positive trajectory so far, and in the next 5 years, we aim to be one of the market leaders for cyber security in our country."
For more stories of startups, click Startup Stories.
Follow us and connect with us on Instagram, Facebook, Twitter and LinkedIn.