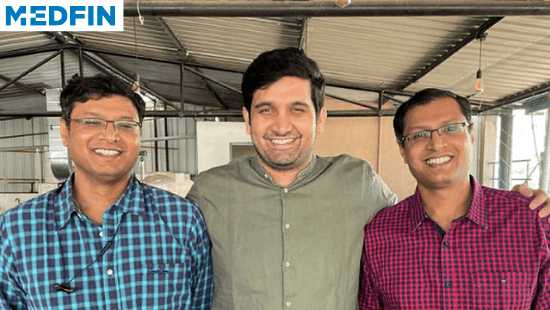 Healthcare Startup 'Medfin' Raises Series A Funding
Medfin, a Healthcare startup, has raised an undisclosed Series A funding round led by Singapore-based HealthXCapital and Blume Ventures.
The funding round also saw participation from Japan's Dream Incubator and Medfin's existing investor Axilor.
As per the startup, the funds will be used to set up ambulatory care centres in the four cities it currently operates in — Bengaluru, Hyderabad, Chennai, and Pune.
Also, Medfin will use a portion of the funds to purchase high-end surgical equipment for daycare surgeries.
Founded by Arjun Kumar, Arun Kumar, and Sidharth Gurjar in 2017, Medfin is a one-stop solution to surgical care. Medfin offers patients access to the latest, minimally invasive surgical procedures, ensuring faster recovery with minimal pain.
The startup is primarily betting on people choosing to undergo surgeries at daycare or an ambulatory care centre.
Talking about Ambulatory Care Centres, Arjun in a press statement said,
"Indians will undergo nearly six crore surgeries this year. With rapid technological improvements, ~60% of all surgeries can be performed at daycare / Ambulatory Care Centres. This brings down the costs for a wide range of procedures like varicose veins, fibroids, kidney stones, hernia, prostate, piles etc. by ~40% with better patient outcomes."
Medin also claims that since the lockdowns, it has ramped up operations, and is tracking a 4X growth over the last year.
Need legal assistance for your startup? Just contact us.
Follow us and connect with us on Instagram, Facebook, and LinkedIn.