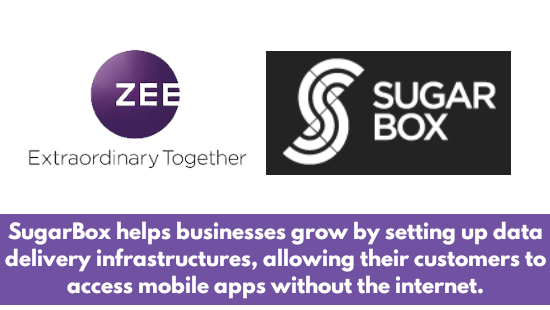 Funding News: Tech Startup SugarBox Raises ₹522 crores from Zee
Tech Startup SugarBox has raised ₹522 crores from Zee (a Media and entertainment company).
As per SugarBox, it is making internet services more available, reliable, affordable and contextual. 
The startup helps businesses grow by setting up data delivery infrastructures at various locations, allowing their customers to access mobile apps without the internet.
With the help of SugarBox, users can access the internet in places like- malls, public transport, etc.
Talking about the services and partnership with SugarBox, Punit Goenka (MD and CEO at Zee) said,
"The unique technology will enable us to serve content to consumers across the nation, without being restricted by connectivity constraints. We are confident that this synergy will create a strong foundation for us, as we progress towards offering relevant content to consumers across platforms."
Zee Entertainment Enterprises Limited (ZEEL) bought SugarBox three years ago and presently has an 80% stake in SugarBox.