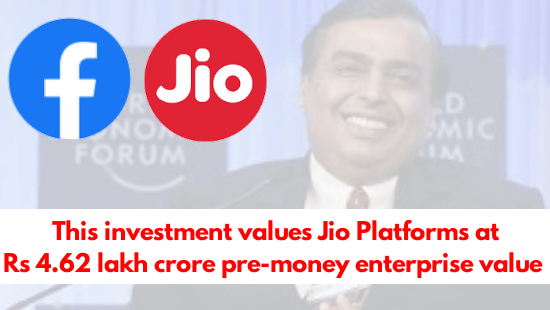 Facebook Invests Rs 43,574 Crore In Reliance Jio, Acquires 9.9% Stake
Social Media giant Facebook has invested $5.7 billion (Rs 43,574 crore) to acquire a 9.9% stake in Reliance Jio, making Facebook the largest minority shareholder in the company.
Reliance Industries Limited announced this partnership, and also stated that this investment values Jio Platforms at Rs4.62 lakh crore pre-money enterprise value ($65.95 billion).
"Reliance Industries Limited, Jio Platforms Limited and Facebook, Inc. today announced the signing of binding agreements for an investment of Rs 43,574 crore by Facebook into Jio Platforms."
In a another statement, Reliance Industries stated,
"The partnership between Facebook and Jio is unprecedented in many ways. This is the largest investment for a minority stake by a technology company anywhere in the world and the largest FDI in the technology sector in India."
With this deal, both RIL and Facebook want to help millions of micro, small and medium businesses, farmers, and millions of other enterprises by providing them digital-based solutions.
Talking about this deal and the vision behind it, David Fischer (FB India Chief Revenue Officer) and Ajit Mohan ( FB India VP and Managing Director) stated,
"Our goal is to enable new opportunities for businesses of all sizes, but especially for the more than 60 million small businesses across India. They account for the majority of jobs in the country, and form the heart and soul of rural and urban communities alike."