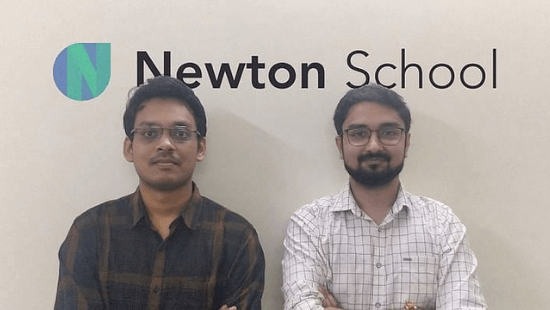 Edtech Startup 'Newton School' Raises $650,000 In Seed Funding Round
Edtech startup Newton School has raised $650,000 in a seed round of funding led by Nexus Venture Partners, an early-stage venture capital firm.
Unacademy founders Gaurav Munjal, Roman Saini, and Hemesh Singh also participated in the funding round.
The funding round also saw participation from AngelList, Srinivas Anumolu (Founder of Upwork), veteran educationists Ajay Gupta and Sahil Aggarwal, and K Ganesh (Founder of GrowthStory).
As per the startup, it plans to use the funding amount to strengthen its product and expand its team.
Founded by Nishant Chandra and Siddharth Maheshwari in 2019, Newton School is a Bengaluru-based online edtech platform that provides industry-standard tech courses, that you pay for only after you get a job.
Nishant Chandra, Co-Founder, Newton School, said,
"Millions of students every year go to engineering colleges with outdated curriculums which teach coding using pen and paper and have little relevance to industry requirements.
This results in a meagre 3% employability for new-age jobs even after spending lakhs of rupees.

Newton School has developed interactive products and curriculum that allow students to practice coding and get instant feedback, build live industry-oriented projects, and get it reviewed by top software developers, making them ready for high paying jobs."
Need legal assistance for your startup? Just contact us.
Follow us and connect with us on Instagram, Facebook, and LinkedIn.