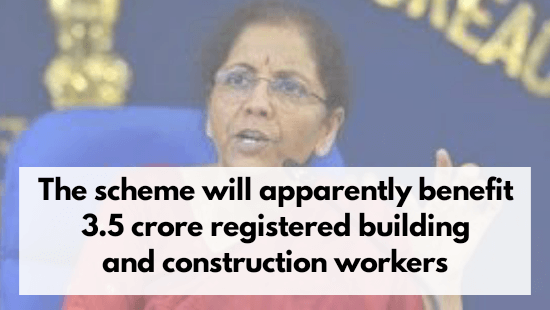 Coronavirus Impact: FM Nirmala Sitharaman announces Rs. 31,000 crore Welfare Fund For Construction Workers
To help workers monetarily, amid the lockdown caused by coronavirus outbreak, Finance Minister Nirmala Sitharaman announced some measures.
Implemented to benefit 3.5 crore registered building and construction workers, FM Nirmala Sitharaman announced a welfare fund of 31,000 crores.
Also, Nirmala Sitharaman added, the Government of India will pay Employees' Provident Fund (EPF), that will benefit 4.8 crore workers registered with EPF.
The EPF will contribute 12 % each for the employee and the employer (24 %) for the next 3 months.
Though, this is only for companies in the organised sector having up to 100 employees and with around 90 % of the employees drawing a salary below INR 15K.