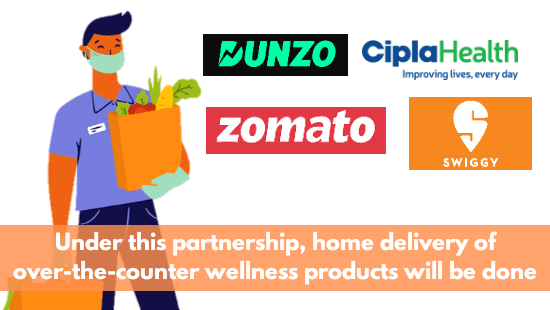 Cipla Health Partners With Dunzo, Zomato, Swiggy For Delivery OF Wellness Products
Amid the lockdown, many companies are forming meaningful partnerships to help the citizens fight COVID-19. And for such, Cipla has also come forward.
Cipla Health, a subsidiary of Cipla, said that it had partnered with Dunzo, Zomato and Swiggy for the home delivery of over-the-counter wellness products.
Talking about this partnership, Shivam Puri (CEO of Cipla Health) said, 
"We have collaborated with these premier delivery partners as their expertise, coupled with our suppliers, will allow us to reach out to a larger segment of the population."
Mohit Sardana, Zomato COO Food Delivery, also shared his views on the partnership and talked about how it will help the users. He said, 
"Through our partnership with Cipla Health, we will employ our logistics capabilities to ensure our users have easy access to OTC wellness products from the safety of their homes."
It is an appreciable effort by these companies to join hands and help people in need. And partnerships like these will help people fight COVID-19 in a much better way.