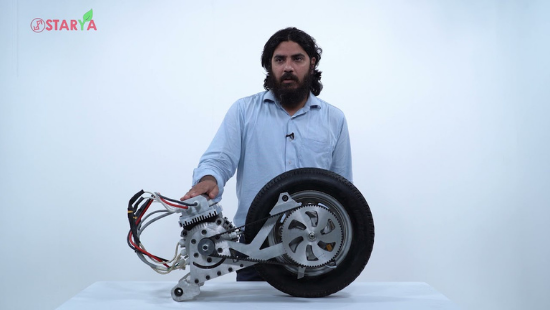 Starya Mobility Raises Rs 2 Cr In A Bridge Funding Round
Starya Mobility, a startup operating in the clean mobility & EV space, has raised Rs 2 Cr in its bridge round of funding from ah! Ventures Angel Platform.
As per the startup, the raised capital will mainly be utilized towards servicing their very first orders received from customers after Starya Mobility opened up their converted scooters for trial rides from November 1st 2021.
Starya Mobility | Green Mobility Solution Provider
Starya Mobility is a Bengaluru-based electric scooter retrofit kit manufacturing company that is working to be the most preferred green mobility solution provider.
Speaking about the development, Ravikumar Jagannath, Founder of Starya, says,
"Thanks to ah! Ventures, for being amongst the very first external institute to have confidence in our solution. We were thrilled to see the end consumer's excitement and acceptance of our product during the trial rides. We are hoping to repeat the process in scale very shortly. The holistic solution we are offering made sense to the consumer, and we are happy to see investors upholding the same belief."
By developing affordable and reliable cutting edge technology, Starya Mobility aims to facilitate a seamless transition to clean energy.
Amit Kumar, Senior Partner at ah! Ventures, said,
"We are extremely delighted to back Starya. The progress so far has been very encouraging, which has been validated by the overwhelming response we have received from existing and few new investors. I am sure Ravi and team will execute this to perfection to make Starya a formidable player in the EV space."
Till date, ah! Ventures' has done a total of 106 investments (in 81 Startups), taking its total investment portfolio to INR 256 CR (~34 MN USD) with 13 exits and 23 follow on rounds.
This development comes within 6 months from the previous fundraise of 2.2 Cr by the startup, which was also raised on ah! Ventures First Gear platform.
Need legal assistance for your startup? Just contact us.
Follow us and connect with us on Instagram, Facebook, Twitter and LinkedIn.