Startup Story: Nyaykarta | Access To Quick, Easy and Affordable Justice
Powered by the Startup India Mission, India has one of the largest and diverse startup ecosystems in the world.
Some startups in this vast startup ecosystem not only want to redefine the industry but to make an impact on society.
Driven by the vision to provide quick, easy and affordable justice to people, this startup story is about a social impact startup called 'Nyaykarta'.
Startup Story: Nyaykarta | Access To Quick, Easy and Affordable Justice
Nyaykarta Founder
Nyaykarta was founded by Shubham Sharma.
Apart from being the founder of Nyayakarta, Shubham is also the current President and CEO of Rajmanch, a platform to ensure effective implementation of government programs.
Shubham Sharma also has a keen interest in politics and is also serving as a leading political strategist and public policy expert.
How Nyaykarta Started?
Nyaykarta started with a vision to provide quick, easy and affordable justice to people.

While working as a strategist with leading national and regional politicians, helping governments implement their schemes, Shubham Sharma (Founder Nyaykarta) noticed how people faced immense difficulty in making their voices heard. He soon recognised the need for a ground-level change.
Talking about the judicial system in India, Shubham said,
"With 35 million cases still pending in the Indian courts, 15 Million new cases added every year and an expenditure ranging from 25000-30000 to a couple of lakhs per case, the Indian legal system is far from providing quick and affordable justice to people."
Thus, the idea to develop a dedicated platform with an efficient and experienced team came. So, to work on people's issues and bring a social impact on their lives, Shubham Sharma started 'Nyaykarta'.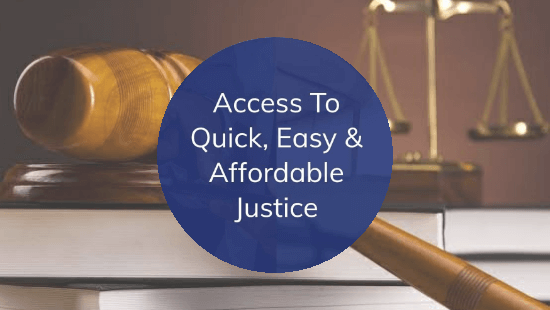 How Is Nyaykarta Different From Other Startups?
Nyaykarta is an Advanced Public Grievance Redress Platform for access to quick, easy and affordable justice. The startup has a team of 500+ selected legal & human rights experts across the country that take all possible steps to resolve a matter including preliminary investigation, communication with the opposite party, coordination with government authority, consultation etc.
Not only their methods are much more cost-effective, but also less time consuming as compared to the legal system within courts.
"With a huge shortage of judges, the current ratio stands less than 15 judges per million people. It can take nearly 20 years today if a case goes all the way from a subordinate court to the Supreme Court, which means multiple generations of litigants, back-breaking costs and frustration.
Considering an average time span of 10 years to each case, approximately 30,000 crore rupees per year are spent by litigants in courts! People face continuous frustration besides feeling helpless and depressed as they find no means to quick easy and affordable justice leaving them with little or no choice."
Aiming to help people in rural and backward areas with high illiteracy and low digital savvy users, Nyaykarta plans to develop a local assistance-based model on its platform.
Using it, any user, especially people in rural and backward areas, can approach representatives appointed by Nyaykarta for legal help.

Present Situation of Nyaykarta
Nyaykarta started its operations in May 2020, and within just 2 weeks of launch, Nyaykarta is serving over 100 customers daily.
The startup is focused on providing effective services to its users and that is why Nyaykarta is focussing on organic growth.
Future Plans of Nyaykarta
Nyaykarta plans to focus on corporate tie-ups and for expansion in Delhi, Mumbai and Bangalore first.
The startup is also developing a 'Nyaykarta Card'.
The 'Nyaykarta Card' will be similar to a membership card. And the users, by just paying a one-time nominal application fee, would get free help against fraud, threat and harassment anywhere in India.
Read: Story Of Travel Triangle.