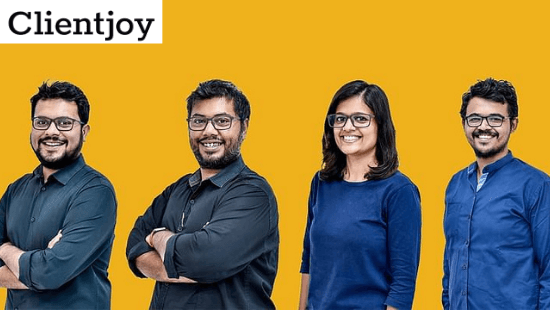 SaaS Startup 'Clientjoy' Raises $800,000 Funding From Gujarat Venture Finance Limited (GVFL)
Clientjoy (formerly known as Gridle), an Ahmedabad-based SaaS startup, has raised $800,000 in a pre-Series A funding round from GVFL (Gujarat Venture Finance Limited).
GVFL is an early-stage venture capital firm.
As per the startup, it will use the funds to grow the company's sales, marketing and engineering to expand its product offering.
Started in 2019 by Abhishek Doshi, Anupama Panchal, Yash Shah, and Shashwat Bhatt, Clientjoy is a complete client experience management platform. The platform help agencies and freelancers manage their leads, customers, proposals, invoices, and payments all under one roof.
Talking about Clientjoy, Yash Shah, Co-founder and CEO of Clientjoy, said,
"Today, agencies and freelancers have to devote significant time and resources, just to manage clients since client management happens across multiple tools and platforms. They have no idea about either the bottlenecks or growth enablers because most of the data is not captured and even that is spread across various platforms. Clientjoy addresses and solves this issue."
Currently, the startup serves over 1,900 agencies in digital marketing, IT services, and design agency segments across the US, Europe, Australia, India, and Southeast Asia.
Need legal assistance for your startup? Just contact us.
Follow us and connect with us on Instagram, Facebook, and LinkedIn.