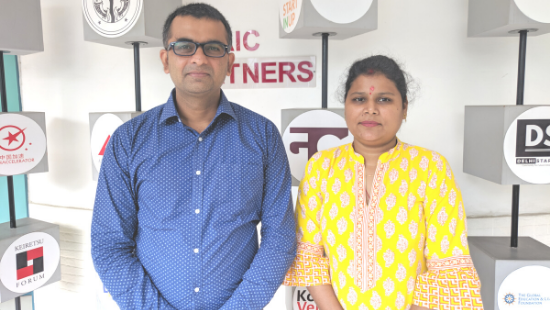 Part Of Atal Incubation Mission's Flagship Incubator Program, Tech Startup KBCD Is Transforming The Car Rental Industry Upside Down
For a long, the car rental industry in India has been dealing with issues like inefficiency, transparency and trust, among its stakeholders. After witnessing these inefficiencies themselves, Keshav Jha and Divya Jha, a software engineer couple, thought of leveraging tech to remove these issues. They started working on the idea and together formed tech startup KBCD.
Started in 2017, KBCD is a Delhi NCR-based tech startup transforming the car rental industry with its B2B – Software as a service (SaaS) solutions. The startup offers a complete SaaS-based end to end solution for car rental operators, i.e. Booking, Billing, Bill Receipt, GST Report, Customer Ledger, Customizable MIS etc., all in one platform. KBCD is also available on Android (Google Play Store) for mobile users.
Till now, the Delhi NCR-based tech startup has served more than 200 clients across India and has been generating a Five lakh+ recurring amount monthly with most of their automated processes.
From An Idea To A Business
When asked about the starting point of the entrepreneurial journey, Keshav Jha, the co-founder and CEO of KBCD, said,
"I always see any problem as an opportunity and try to solve it through my knowledge and skills. Once I received a challenging project to address the real pain of several car rental operators. I started working on the idea and created offline GUI-based software. But soon, I realized that the product could be scaled by upgrading it to online."
"As we launched the product online, 100 car rental operators across India & Sri Lanka started using our product. After witnessing the exponential positive response and subscription, we shifted to the SaaS model," Keshav added.
Part of AIC-BIMTECH Program
The Delhi NCR-based tech startup has been identified as a potential unicorn by the Government of India's Atal Incubation Mission (AIM). It was the expertise and sheer knowledge of Keshav Jha and Divya Jha that got them selected for the AIC-BIMTECH program.
Through the program, KBCD will get help in scaling up the business and raising funds. The program will also provide the tech startup market access with the help of its incubator network.
Standing Strong Amid COVID-19 Waves
The tech startup has sustained growth despite the adverse effects of both COVID-19 waves, and even in times of strict lockdown and distress, KBCD India showed positive growth.
As per Keshav, there has been a continuous fund inflow in both COVID waves, and currently, the tech startup has recovered to 50% to the pre-COVID levels. Their B2B SaaS product has processed a total of $134 Million (around ₹1,000 Cr) worth of invoices.
Future of KBCD
When asked about the company's plans for the future, Keshav said,
"We are looking for external funding for strengthening the domain of the existing product. We are targeting 100X growth in next 24 Months, which is achievable with the right association of value investors. Till now, Divya and I have been leading the company with the support of a small but remarkable team, but in coming days, we are planning to expand our team by hiring young talents from IITs and IIMs."
For more stories of startups, click Startup Stories.
Follow us and connect with us on Instagram, Facebook, Twitter and LinkedIn.