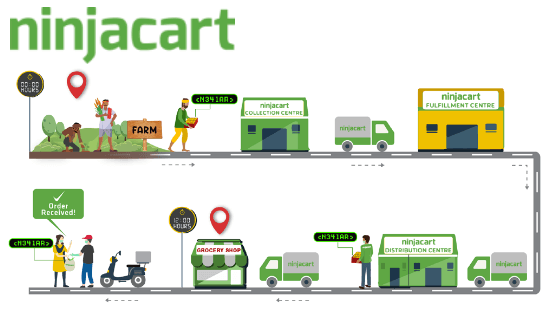 Ninjacart Launches 'FoodPrint', A feature That Lets You Trace Fresh Goods From Farm To Home
Ninjacart has launched a food traceability initiative, FoodPrint, that helps users to trace the end-to-end footprint of fruits and vegetables, from farm to home.
Users can access the 'FoodPrint' feature from Ninjacart's official website.
With this feature user will be able to know information, regarding fresh goods, like-when it was harvested, the truck that carried the produce, the storage facility that processed it, the dealer who bought the product, and how it was delivered at the consumer's doorstep.
Thirukumaran Nagarajan, Co-founder and CEO of Ninjacart, said that Ninjacart worked for almost 2 years to introduce FoodPrint, and as COVID-19 has impacted people's lifestyle and consumers are considering health and safety as a crucial factor while doing purchases, this feature is more relevant than ever.
Thirukumaran Nagarajan said,
"We all have understood the pertinence of traceability given the current situation. Accountability plays a very big role in the supply chain of fresh produce.
With the 'Food Print' initiative, farmers will have to produce a safer and quality product which makes them equally responsible in the whole food chain process and the end consumer will be assured about the quality."