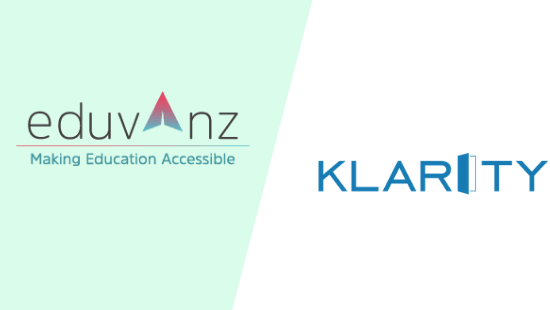 Mumbai Based Fintech 'Eduvanz' Acquires Edtech Startup 'Klarity'
Mumbai-based fintech non-banking finance company (NBFC) Eduvanz has acquired edtech startup Klarity.
Backed by Sequoia and Unitus Ventures, Eduvanz enables students to Study Now, Pay Later at 0% interest rates.
On the other hand, Klarity is an online one-on-one platform that connects students with professionals in their area of interest to provide video-based mentoring.
Talking about the acquisition, Manmeet Singh Akali (CEO and Founder of Klarity) said,
"Joining forces with Eduvanz will help us amplify our reach, and intensify the impact of our work in the careers of students with whom we are working.
Started by Varun Chopra and Raheel Shahin 2016, Eduvanz is on a mission to make education universally accessible by providing easy, transparent and speedy financial assistance using innovative technology solutions.

The tech-enabled NBFC assesses applicants using a proprietary AI-based algorithm at the back-end. Eduvanz has its presence in more than 250 cities in India and has disbursed over Rs 200 crore.
On the acquisition of Klarity, Varun Chopra, CEO and Co-founder of Eduvanz, said,
"The acquisition of Klarity has helped Eduvanz reach out to a network of passionate industry mentors and more than 300 educational institutes. Klarity has impacted more than 5,000 careers via one-on-one mentoring. The team can help Eduvanz users to not only finance their courses but also get help in choosing the right course."
Need legal assistance for your startup? Just contact us.
Follow us and connect with us on Instagram, Facebook, and LinkedIn.